Parkour and a series of vignettes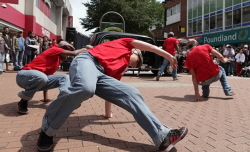 Over 4,000 people saw TAXI, a street-dance performance by Avant Garde Dance in Hounslow High Street last Saturday (23 July). TAXI is a comic story about a day in the life of a London Taxi, told through dance and mime. Fusing the elements of Parkour, Contemporary and Hip-Hop Dance and set in, around and on top of an iconic London Taxi, this piece is a refreshing, entertaining piece of street theatre and dance. A London Taxi, which has been cleverly converted and reinforced to provide a dance platform provided the base as the six dancers performed a series of vignettes - there was the angry customer, the wedding couple, the businessman and the 'clubber'. The audience were wowed with the energy and precision of the dancers as they turned a little piece of the High Street into a stage for their storytelling. The Taxi itself provides both the engaging narrative for the piece and an inventive and unusual set. And two lucky ladies went off with the wedding bouquets that were thrown into the crowd.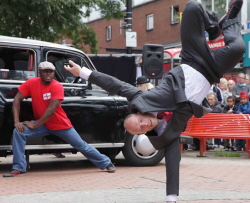 Taxi was produced by Remarkable Productions and presented by Watermans as its contribution to Open Weekend, the national programme of cultural activities that marked the anniversary of the opening of next years' Olympic Games.
Watermans is Hounslow's Arts Centre. It is planning a series of outdoor activities in the lead up to and during the Games next year which will help to bring the party atmosphere planned for the Games to Hounslow.
August 8, 2011