Results on display in Watermans for the Summer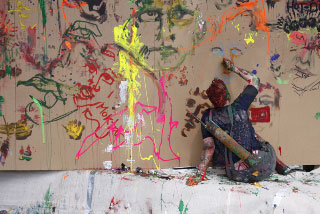 Early visitors to Hounslow High Street were intrigued last Saturday as two large canvases were mounted between trees at one end of the pedestrian area. This became the site for the latest of Elizabeth Hepworth's Live Action Painting events. To a constant fanfare of music, local shopkeepers, shoppers, street vendors and passers-by were challenged to watch, be drawn or painted or take part in a 4-hour long spectacle which was Watermans contribution to Open Weekend.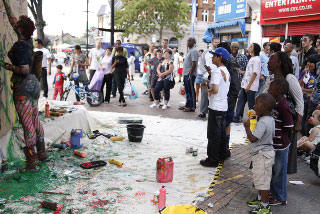 A constant crowd watched intrigued, as Elizabeth Hepworth enthralled them, one minute using her hair to paint with, another delicately sketching the outline of a child held in his father's arms. During the course of the day over 60 different people of all ages modelled to have their images woven into a giant double-sided collage reflecting the audience of the day.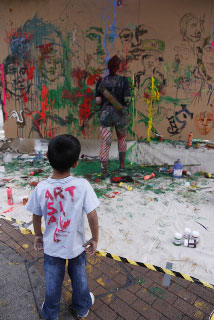 And some of the audience were lucky enough to take home their own personal momento of the day. The final pictures will be on display at Watermans during the remainder of the summer.
August 3, 2010