Details have been released of how the borough's bus services will be affected during the 2012 London Olympics.
Some buses will increase in frequency to cope with extra passengers during the games. There will also be a large number of diversions.
Transport for London has put a summary of changes to all affected bus routes on its website, and has incorporated any changes into its journey planner.
Putney buses will be affected by the Cycle Road Races on July 28 and 29. No buses will be stopping in Putney town centre on those days. Transport for London and games organisers have decided that the race route and some surrounding roads will be closed to traffic for long periods that weekend. Some road closures will commence as early as 3am and all roads will remain closed until mid-evening on both days.
Work has now started on preparing Wandsworth's roads for the Olympic Route Network, including marking Games Lanes reserved for athletes and other members of the 'Olympic Family'.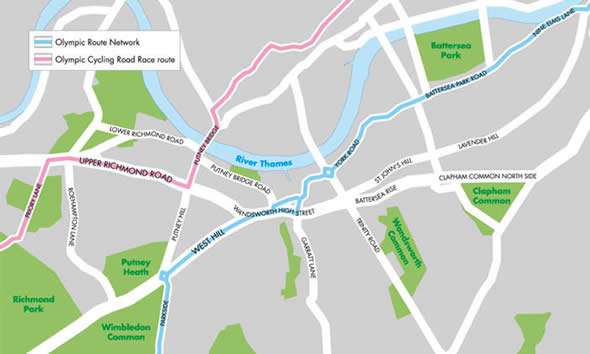 In Wandsworth, trunk roads that will be part of the ORN are Wimbledon Parkside, Tibbet's Corner, West Hill, Wandsworth High Street, Armoury Way, Fairfield Street, Swandon Way , York Road, Battersea Park Road and Nine Elms Lane.
Some roads will have games lanes, and others will be affected by a ban on right turns, bus diversions and other measures.
Restrictions will be in place from a few days before the start of the games, to a few days after the tennis competition at Wimbledon ends on August 5. For full information and detailed maps, go to www.tfl.gov.uk/orn
Residents are urged to think about travel during the games, plan their journeys carefully and explore possible alternative options by visiting www.getaheadofthegames.com or calling 0843 222 1234.
The council will be tweeting throughout the games to alert residents of local incidents they should know about, such as major road snarl-ups or security alerts. Follow the council's Twitter feed @wandbc.
Find out more about the Olympics in Wandsworth at www.wandsworth.gov.uk/olympics