Celebrates International Good France Campaign with lunch
Related Links
Participate
Comment on this story on the forum

On Thursday 19 March, the London School of Hospitality and Tourism, part of the University of West London, hosted a special lunch for the French Ambassador, Sylvie Bermann. The event celebrated French cuisine as part of the international Good France (Goût de France) campaign, and culinary arts students prepared a five course meal featuring renowned French ingredients.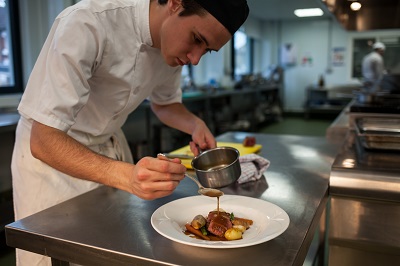 Alexander Buchanan, second year Culinary Arts Management student prepares lunch
The taster lunch took place at the University's training restaurant, Pillars and guests enjoyed classical music performances from the London College of Music. In addition to preparing the lunch, two UWL students were invited to be part of a team to prepare the official Good France dinner at the Ambassador's residence, alongside executive chef Gilles Quillot.
Good France is a celebration of French gastronomy that invited restaurants around the world to serve simultaneous dinners that honour the merits of French cuisine. Over 1,300 restaurants participated in Good France on 19 March 2015, an initiative organised by French Michelin starred chef Alain Ducasse, and the Ministry of Foreign Affairs and International Development.
Mia Touzin, Field Leader in Hospitality and Event Management at the London School of Hospitality and Tourism, said: 'UWL has strong links with French culinary arts institutions and the French Ambassador's residence. Events like this enrich the curriculum and expose students to different food cultures and tastes, preparing them for careers in international markets.'
Alexander Buchanan, second year Culinary Arts Management student, added, 'I was honoured to cook for the French Ambassador – both at the lunch and dinner. I look to French cuisine for guidance and techniques: the fundamentals of their cooking are important to understand as I develop and explore my own style.'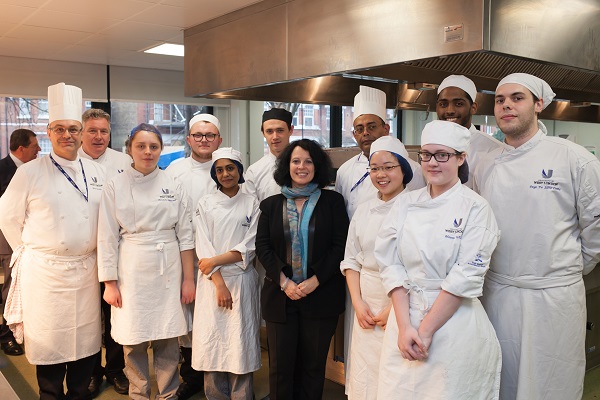 French Ambassador Sylvie Bermann with UWL students and staff
The menu read:
Pissaladiere feuilletee aux legumes provencaux accompagne de son chutney d'oignon rouge et betterave
Tournedos de saumon, ragout de lentilles aux epices et oeuf poche
Romsteak d'agneau roti-lent, pudding d'agneau, navet et ris d'agneau saute glace servi avec ses legumes de saison
Pont-l'eveque
Marquise au chocolat amer parfume au cognac servi avec son sorbet de Kumquat et marmelade

March 27, 2015