Final year musical theatre students at London College of Music (LCM) performed Quill, a new musical production based on the life of William Shakespeare, at Watermans Theatre in Brentford on 23 Jan 2013.
The new production, part of LCM Live's 2013 season, was watched by a capacity audience and featured students from BA Music Technology, BA Theatre Production, BMus Performance and MMus Music Management. The production was an integral part of LCM's commitment to ensuring students have real-time work experience in a live original theatre environment.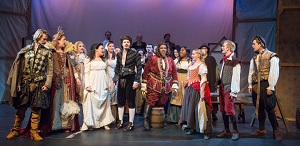 The production was directed by Marc Urquhart, whose previous works includes well-received revivals of Constance and Peter Pan. Musical direction came from current LCM Master student George Carter with orchestration from LCM alumni Andy Smith. Quill the book was written by Den Stevenson with music and lyrics by Fergus O'Reilly.
As part of the University's engagement with the local community through educational outreach, school pupils from the west London area were also invited to musical theatre workshops throughout the University's residency at Watermans Theatre. The pupils- aged between 16 and 18- were given the opportunity to work with the directors and other members of the production team in addition to working on scenes with the actors from each production.
Quill writer and composer Fergus O'Reilly said: 'The London College of Music have been absolutely fantastic at every stage of the production process. It's a very difficult task to arrive at this point with a new musical, and the fact that they have been so supportive and positive has made this a hugely enjoyable experience. This is the culmination of seventeen years work, and both myself and Den Stevenson are delighted with the result.'
David Henson, M.Ed, Field Leader for Performing Arts and Course Leader for BA Musical Theatre at London College of Music, said: 'By choosing Quill, London College of Music set out to provide the Watermans audience with a bold and original piece of theatre that the students could interpret develop and make their own. This was a special day for all the students and staff involved in the production.'
Sara Raybould, MMus, Director of London College of Music, said: 'LCM and the University of West London are committed to developing new theatre which is why we are delighted to support this new production. Tonight's performance of Quill is the culmination of years of hard work by all the students; the musicians, stage managers, sound technicians, and of course all those in their final year of musical theatre who were performing on the stage. Quill forms a key part of our efforts to develop and encourage original writing and new talent, and it is a fitting start of another exciting year at LCM.'
Film and Theatre Director Tony Palmer, in the audience for the premiere of Quill, said: 'The University does a fantastic job of promoting new and original theatre in west London and it's a pleasure for me to be here tonight. For the students, getting up there and performing in front of an audience is crucial for their development and tonight is a huge milestone for them.'
Zohra Hussain, University of West London Education Liaison Team Leader, said: 'The residency at Watermans was a brilliant opportunity for us to engage with school pupils through the University's outreach programme. These action-packed workshops enabled pupils to gain real experience of both performing on the stage and working behind the scenes in a theatre. The sessions provided the pupils with a flavour of some of the courses that London College of Music offers.'
Quill was part of a LCM's three week residency at the Watermans Theatre which also featured a production of the Beggars Opera by John Gray. The performances were the first productions in the LCM Live 2013 season, which features a range of performances; master classes and lectures open to the public- please see the LCM Live website for further information.

February 12, 2013