Related links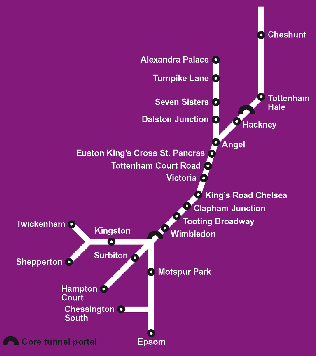 Travel Updates for Your Area
For other closures further details of alternative arrangements and bus replacement services will be posted here when available. Look out in your site's newsletter for updated information.
For further information visit tfl.gov.uk or phone 020 7222 1234 (24 hours) or speak to station staff.
Tony Arbour AM, the London Assembly Member for South West London has warmly welcomed London First's proposed route for Crossrail 2.
The £12 billion scheme being proposed by the London First business group would run a line through Victoria, Tottenham Court Road, Euston and Kings Cross, before heading out to Alexandra Palace or Cheshunt.
The new line, which wouldn't open until the early 2030s, is aimed at relieving congestion on the Victoria, Northern and Picadilly lines.
It would give a proposed journey time from Wimbledon to Tottenham Court Road of just 14 minutes.
The southern end of the line would have branches starting in Epsom, Chessington South, Hampton Court, Shepperton and Twickenham. See map (right).
Commenting, Tony said: "Crossrail will be a huge boon for London when it opens in 2018 and it is sensible that we switch our attention to building the much-needed Crossrail 2. I am delighted to note that London First's proposed route would slash journey times for the vast majority of my constituents.
It currently takes 49 minutes to travel from Kingston to Tottenham Court Road, whereas this proposal would reduce that to 27 minutes. On top of that we would see 12 trains an hour into central London from Kingston and a significantly improved service from Twickenham, Surbiton and Hampton Court.
"My constituents pack themselves onto some of the busiest trains in Britain so clearly I will back any proposal that improves conditions for those in Richmond and Kingston. This route is currently just a proposal but should it go ahead Crossrail 2 could save my constituents hundreds of hours from their annual commute.
Former Transport Secretary Lord Adonis, who chaired the task force which prepared the proposals, said: "We urge the Mayor and central government to take forward preparations for Crossrail 2, including a credible funding plan embracing the public and private sectors, with a view to construction in the 2020s."
February 6, 2013