Sports for children over Easter holidays with Brentford FC Community Sports Trust
Related Links
Participate
Comment on this story on the forum

Brentford FC CST runs soccer schools and Multi-Sports Camps throughout the year. We have venues at Chiswick School and GOALS Soccer Centre in Osterley. Prices start from £16 per child per day for all early bird online bookings.
Brentford FC CST Soccer Schools are open to boys & girls aged 5-12 years and focus on technical and skills development. In the morning participants take part in training sessions whilst the afternoons are dedicated to small-sided development games.
Brentford FC CST Multi-Sports Camps offer a variety of sports activities including football, tennis, cricket, netball, basketball, ultimate frisbee and athletics.
The courses are a great way for youngsters to make new friends and take part in excellent football and sporting fun! Our holiday courses offer exceptional value for money and guarantee your child a great opportunity to have fun whilst learning in a safe and secure environment.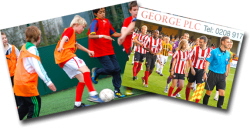 Date & Time of Camps
Chiswick School, Chiswick
Week 1: Monday 30th, Tuesday 31st March and Wednesday 1st April 2015
Week 2: Tuesday 7th and Wednesday 8th April 2015
Eventbrite - Easter Soccer Schools 2015 - Chiswick Weeks 1 & 2

GOALS Soccer Centre, Osterley
WEEK 1: Wednesday 1st and Thursday 2nd April 2015
WEEK 2: Thursday 9th and Friday 10th April 2015
Eventbrite - Easter Soccer Schools 2015 - GOALS Weeks 1 & 2

All courses start at 10am and finish at 3pm. Please arrive at least 15 minutes prior to the start and collection times for each camp.
All of our coaching staff are FA qualified and have completed their Safeguarding Children, CRB and Emergency Aid certificates.
Parents should note that our holiday courses are open to participants of all abilities.
Early Bird Offer: £16 per child per day – Booking procedure and deadline
Online bookings for all courses close at 10am - 24hours prior to the start of that day's course. For 2 and 3-day schools/camps then the online booking offer closes 24hrs prior to the start of the first day of the school/camp.
After this date (and subject to places still being available) the price will revert to the full £21 per child per day payable at the venue on the day of the camp.
The booking deadline allows for us to plan coaching staff ratios and prepare registers prior to the course start.
Please be aware that for health and safety reasons we reserve the right to close entry to on-the-day bookings should numbers exceed coach allocation ratios.
Junior Bees and ATP Player Discounts
Members of Brentford FC Junior Bees Supporters Club and our ATP receive an additional 10% discount on the cost of the booking. Please email enquiries@brentfordfccst.com for the discount code (When making your booking please enter your discount code number then press Apply to access the discount)
Important - Shin Pads (Football & Multi-sport Camps)
Please be aware that any players without shin pads will NOT BE ABLE TO PLAY in the small-sided games due to health, safety and legal reasons - Please understand there can be no exceptions to this rule.
Player Appearances
Parents/Guardians should note that appearances by Brentford FC First Team players are subject to training and matchday duties and so we cannot guarantee player participation at venues throughout the year
If you have any queries regarding our courses or the early bird offer please call the Trust on 0844 247 1889 or contact BFC Community Sports Trust via email
March 24, 2015