Half Day Trials for Years 1-11

Brentford Football Club Community Sports Trust has been running an Advanced Training Programme for the last 15 years and has largely drawn its players from the projects it has run throughout the London Boroughs of Hounslow, Ealing and Richmond.

The Advanced Training Programme which is independently run by us was started primarily to offer a dedicated football development programme to help young player's advance their skills that had been identified as having talent or the potential to improve in a player-centred environment.
The fee-based programme now runs at 2 venues (Southall and Twickenham). Players train once a week which supplements any training they may do elsewhere.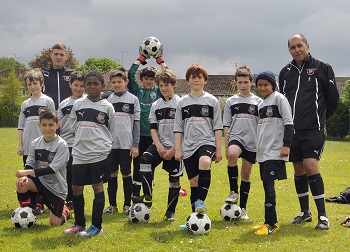 There is also a dedicated match programme which takes place 5 times a year in the holiday periods. Currently we play matches against other Community Sports Trust's such as Arsenal, Brighton, Coventry, MK Dons, Wycombe Wanderers and Oxford United amongst others.

It is also a potential pathway into Brentford FC Academy for those deemed to be of a high enough standard to be put forward for a trial. Although, we do stress that the level required for this is extremely high.

We will be holding our first ever open trial for our ATP on Wednesday 23rd October at Twickenham Academy (formerly Whitton School). There will be a training session followed by matches for us to assess the suitability of potential players to invite in for our ATP.

The whole trial will last around 3 hours 15 minutes which will include a rest period. It will cost £10 and will also include a pair of match tickets (worth £26) for Brentford FC's game v Crewe Alexandra on Saturday 16th November 2013. Places are limited in all the age groups.

Should you be invited into the ATP group this will not affect your football should you already play for a weekend club.

We are looking to identify players who have the potential to develop from school Years 1 through to Year 11.

Please book your place online or email Luis Melville at Brentford FCCST or call 020 8326 7037
October 3, 2013