By-election will take place in July for Brentford ward seat on the Council
Newly-elected MP for Brentford & Isleworth, Ruth Cadbury MP has resigned from Hounslow Council today (Fri, 29 May). A by-election will take place on July 9th 2015.
She was a Councillor for the Brentford ward for 25 years, having been re-elected in 2014 with over 2,000 votes. In a statement today she said being an MP was a full-time job and it was therefore appropriate to resign as a local councillor.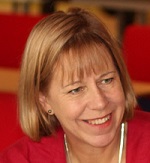 A by-election will follow in the ward in which Labour took all three seats comfortably last time.
Hounslow Council's Returning Officer and Chief Executive Mary Harpley said today she had received Cllr Ruth Cadbury's resignation as a ward councillor.
"Following notice of the vacancy, the council has today (Friday 29 May) received two signatories requesting that a by-election be held.
"The date of the by-election will be set at the Returning Officer's discretion and will be within 35 working days of the date of receipt of the requests. Once the date has been confirmed, a Notice of Election will go on display at the Civic Centre and will also be published in the local media and publicised on the council's website."
For more information on registering to vote in the by-election and postal and proxy voting, go to the council's Elections and Voting webpages.
Ruth Cadbury, was sworn in as a Member of Parliament last week. She has been finding her feet in Westminster and getting a team together to help her with parliamentary and constituency work. In a statement published on her Facebook page, Ruth said that as she was elected to Parliament on 7th May " it's therefore appropriate to resign as a Hounslow Councillor.
She said it had been a privilege to serve the people of Brentford on Hounslow Council for a total of 25 years this month. "I am proud of all I have achieved both as a ward councillor and as a cabinet member, the town centres regeneration, opposing Heathrow expansion and initiating the Community Foodbox as well as helping hundreds of local residents with their issues and concerns."
Brentford Ward - Election Result May 2014
| Name | Party | Votes | Elected |
| --- | --- | --- | --- |
| Cadbury, Ruth | Labour | 2,326 | Yes |
| Collins, Melvin Barrie | Labour | 2,066 | Yes |
| Savin, Myra | Labour | 1,875 | Yes |
| Roskott, Helen Mary | Conservative | 733 | |
| Tanner, Julian Stephen Guy | Conservative | 693 | |
| Giles, Gabriella Sabrina Gonzalez | Conservative | 715 | |
| Bradley, John William | Green Party | 683 | |
| Thomas, Ryan John | UKIP | 610 | |
| Bourke, Joseph Gerald | Liberal Democrats | 311 | |
| Cox, David John | The Community (London Borough of Hounslow) | 229 | |
| Naqvi, Mona Zahra | Liberal Democrats | 223 | |
| Bourke, Sean Yuji | Liberal Democrats | 223 | |
| Azu, Godson | All People's Party | 152 | |
| Total | | 10,839 | |
May 29, 2015