Caroline Flint, Labour Energy Spokeswoman, joins Ruth Cadbury on Energy Trail
Related Links
Participate
Comment on this story on the forum
Caroline Flint MP, Labour's Shadow Secretary of State for Energy and Climate Change, came to Chiswick and Isleworth this week. Ms Flint, a former Osterley resident, joined Ruth Cadbury, Labour's Parliamentary Candidate for Brentford and Isleworth, on a visit to the Energy Saving Trust in Chiswick followed by a panel discussion on energy issues at West Thames College in isleworth.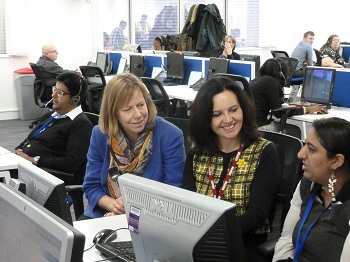 At the Energy Saving Trust offices in Chiswick, Caroline and Ruth were shown the Energy Saving Advice Service Call Centre where over seventy agents offer impartial advice to 300,000 callers each year on how to save energy in their homes and businesses. Working on behalf of the Department of Energy and Climate Change the agents help the callers to identify all the energy saving improvements that they could make to their homes and whether there is any financial support available to them. A recent survey suggested that two thirds of callers have either installed or plan to install an energy saving measure as a result of the advice provided.
Caroline Flint said: I'm really pleased to be able to join Ruth Cadbury in seeing the valuable work that the Energy Saving Trust is doing. Accurate and practical advice is vital in helping people to get the best solutions for their energy solutions. A Labour government will freeze energy bills until 2017 and give the regulator the power to cut bills this winter."
Ruth Cadbury said Labour is the only party that will take on the big 6 energy companies and fix a broken energy market so it works better for average families. This Government has done nothing to make the energy market fairer, more transparent or more efficient. And, despite David Cameron promising us the greenest government ever, environmental issues have been thrown on the scrapheap".
At West Thames College, Ruth Cadbury and Caroline flint were joined by Osterley Councillor Tony Louki for a panel discussion on energy policy. The Shadow Minister told the audience of Brentford and Isleworth voters that a Labour government would work to restructure the energy industry to make it fairer, more transparent and more responsible. She added "The energy market is simply not working for ordinary people. A typical household energy bill has gone up over £300 since the last election and many vulnerable households have been having to choose between heating and eating"
Ruth Cadbury said: "The energy companies are quick to raise prices when the cost of energy rises but don't cut them properly when it falls. The market has to be reformed so that people can feel confident they are paying a fair bill. I've met many people locally on the doorstep who are really struggling to pay their heating bills"
March 27, 2015