Ed Balls MP and local Labour show support
On Wednesday (15th October) Ruth Cadbury, Labour's parliamentary candidate for Brentford & Isleworth, Ed Balls, Labour's Shadow Chancellor-of-the-Exchequer, Feltham and Heston MP Seema Malhotra and Hounslow leader, Cllr Steve Curran joined people from across the community for a gala dinner at Brentford Lock's Holiday Inn. Local businesses, including Gull Law, Parker Car Services, Magi-led and Harper Kitchens, were well represented alongside Hounslow Councillors and Labour members and supporters .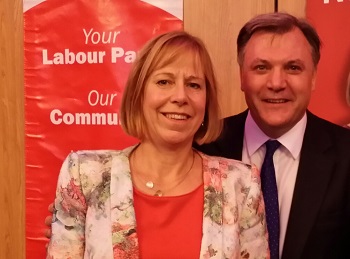 Ruth said: " Our Council is facing yet-more damaging budget cuts in the months to come as the current Government continues to devalue Council services. And many local people are not feeling the benefit of any recovery. We need a change from this cruel Tory-led Government which is supported to the hilt by our current MP Mary Macleod.
"We have to elect a Labour Government so we can have a society that is fair, that works for all and not just the privileged few: A Government that will create jobs, build homes, care for children and older people, support and train our youngsters, protect our NHS."
Ed Balls praised the work done by Ruth and the local council and stressed the importance of electing a Labour Government in May to help people in Brentford and Isleworth dealing with the cost of living crisis and protect the NHS from Tory privatisation. "
September 25, 2014