Penny Flood reviews a disappointing Susan Glaspell revival
This play starts well with what could be an interesting premise; the moral conflict between the need to defend one's country and the futility of war. It was written in 1943, after Pearl Harbour. The main protagonist is Owen Higginbothem, an arrogant, wealthy American intellectual writer has been exhorting his readers to go and fight, but he is being engulfed by feelings of self-doubt as he realises that nobody takes him seriously anymore.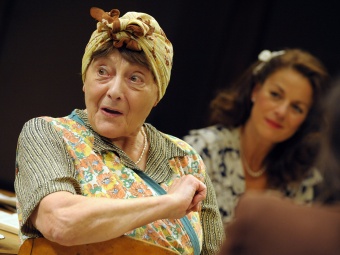 Mrs Soames (Auriol Smith) and Harry (Miranda Foster) Photo by Robert Day

In his self-indulgent, self-flagellation he's pandered to by his first and second wives but not by his salt-of-the-earth housekeeper Mrs Soames, whose son Freddie is actually fighting in the war. Mrs Soames is by far the best character in the play with all the best lines. Owen's rhetoric can't counter her honesty and common sense so he tries to silence her when she talks about Freddie, but she'll have none of it. She believes that Owen was responsible for sending Freddie off the war in the first place. In contrast, Owen's son is considering becoming a conscientious objector.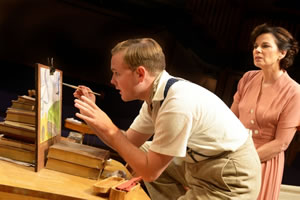 Jumbo (Jeremy Lloyd) and Margaret (Julia Hills) Photo by Robert Day
There's plenty of food for thought here but it all comes spilling out without the time for examination and gets bogged down by a pointless subplot, a couple of unnecessary characters, and too much irrelevant detail. At nearly three hours it's far too long, especially in the stuffy atmosphere of the Orange Tree.

Writer Susan Glaspell was well-known in American theatre where she supported the work of African Americans writers and gave unknown writers a break. She also produced important works by George Bernard Shaw and Eugene O'Neill.

In addition, she was a successful writer with one of her plays, Alison's House, being awarded the Pulitzer Prize in 1932. But Springs Eternal, her last play, wasn't so well received. After it was turned down by a couple of her theatrical colleagues it's been ignored, until now. This is the first time it's been seen, but sadly, unfocussed, overwrought and overlong, it doesn't show her at her best.


Penny Flood

September 25, 2013