Funny thing, death, says reviewer Liz Vercoe.
First, a declaration of interest: my husband Bill Hagerty, a friend of the late Keith Waterhouse who penned this play, contributed the programme note about the Fleet Street days referred to in this witty slice of life after death. Days when Fleet Street men attempted to transform themselves into dutiful fathers and husbands for two weekend days, having survived 120 hours with the mixture of printers' ink and booze pumping through their veins. Days when it started to be noticed that newspapermen often die too young. But you don't have to be in the publishing business to see what's good about Good Grief.
Here Penelope Keith is June, whose newspaper editor husband Sam has died at 63. Returning home from the company-sponsored memorial service some while after his death, she finally faces life without the giant personality who, it becomes increasingly clear, had given purpose to her life for the past 25 years.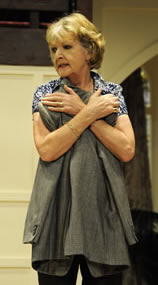 Unnecessarily gone are Penelope Keith's famous To the Manor Born vowels, now replaced by a mixed northern and Somerset burr, possibly hinting at a regional couple thrown closer together among hard-edged Londoners. Knowing her voice so well, as we all do, means that, initially, this is oddly distracting. A bit like the Queen putting on a Liverpudlian accent.
But how she speaks is irrelevant as she masterfully demonstrates the emotional roller coaster that follows death. The administration of alcohol (a brilliant drunk scene), the venturing back out into the world alone, anger, doubt, misdirected passions, black humour and, eventually, sharply defined realism. She carefully teases out the comedy to make the small, quiet, sad moments so much more more poignant.
It wouldn't really matter whether her husband had been a tycoon in newpapers, pharmaceuticals or computers, her reactions are totally recognisable as are the reasons Sam fell for her in the first place.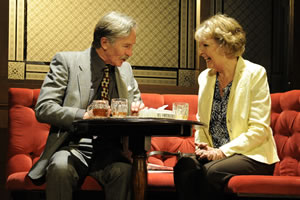 She is ably joined by Flora Montgomery as her irritating step-daughter Pauline, who has her own rich sub-plot as an abandoned Daddy's girl with a bone to pick, Jonathan Firth as Eric, a devious and typically devisive executive on Sam's paper, and Christopher Ravenscroft as Dougie, aka "The Suit". Ravenscroft is Peter O'Toole-ish in his languid tones and manner and gives "The Suit" a plausible niceness that turns June's head.
Between them these four under the direction of Tom Littler manage, in a couple of hours, to conjure up a brilliantly multi-layered observation on human life. For this production set in 1990, shortly after the break up of Fleet Street proper and in the midst of the last recession, designer Simon Kenny has cleverly devised a comfortable l920s-style executive home as the main set, neatly concealing the snug at the local pub which appears as required.
It's really worth catching this play to see Penelope Keith in impressive action, filling out June's character with such humour, compassion and self-awareness. Keith and Co's substantial helping of comfort food next travels to Canterbury. Cheltenham, Guildford, Cambridge and Malvern.
Liz Vercoe

October 10, 2012