Liz Vercoe reviews the latest Orange Tree production

INTRO: Good tidings! Don't miss a simply delicious drama that's as cheering as warm mince pies and carols, says Liz Vercoe.

"On its romantic, Victorian surface, George Eliot's novel Middlemarch is about self-sacrifice for love. Most of the couples in it offer different takes on this theme. Which sounds rather simple, lovey dovey stuff. But what if the needs and desires of the person you love are shaped by uglier external pressures: economic, political, social or even criminal?"

So started my review of part two of the Middlemarch Trilogy, The Doctor's Story, last month and, no, it's not laziness to repeat them here. For doing so borrows from this play, which starts with the same opening words as we heard in The Doctor's Story.

And where part two centred on a highly unsuitable match, Fred & Mary is more about how confusing love is. Is it the real thing? Is he or she the "right" one? Will it last? Is he/she mature enough for the rigours of marriage? And the big one: will love be enough when other things go wrong?

Stir into this mix the terrible disadvantages of being a female in the 1800s when women were seen more as male property than person (which, from the sounds of current reports, many female freshers recently starting at laddish universities will understand completely) and love can be very, very treacherous. "A woman has to put up with the life a husband makes for her," says one character bitterly. "A man should think of his wife as a nurse," dreams another.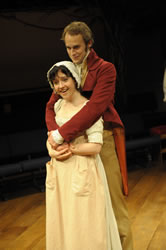 So sensible Mary Garth of the title, doesn't plan to make a mistake with her life. Actress Daisy Ashford is faultless at portraying a warm young woman with her head so firmly screwed on it's amazing she can ever look up at the stars.

Unfortunately for Mary, she loves Fred Vincy (Ben Lambert deftly playing the brother of the spoilt temptress Rosamond in The Doctor's Story). She has been since he put a brass umbrella ring on her finger when they were both little. He, too, remains in love with Mary. But whereas Mary's parents brought her up knowing the value of hard work and "busyness", Fred's unwisely devoted themselves to trying to turn him into a gentleman, as if he could then squeeze through some crack in higher society's floorboards. Fred is now lazy and waiting for good things to fall into his lap. He'd like those things to include Mary but she reckons Fred must prove she's worth working for.

Mary (Daisy Ashford) and Fred (Ben Lambert)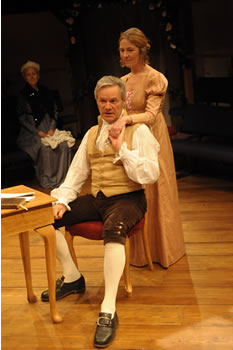 The play fluently plots how these two socially, rather than star, crossed lovers can eventually get together. And while it stands alone as a perfectly formed one-off production, cleverly many lines are recognisable from other parts of the trilogy. Seen from alternative perspectives this adds an unexpected richness to the dialogue. My hat goes off to Middlemarch's adaptor and director, Richmond resident Geoffrey Beevers. (It must be great to see all three parts on the same day while memory is fresh.) And also to actors Michael Lumsden and Lucy Tregear who play Fred's parents, the status-seeking Vincys, as well as Mary's parents, the salt-of-the-earth Garths. And manage to do it seamlessly, with no more than a change of apron or jacket – without confusing anyone!

The brief but memorable presence of Georgina Strawson's Dorothea Brooke – of Dorothea's Story the remaining part of the trilogy – again tempts you to see her in the leading role. And, in an eye-catching performance, Christopher Naylor's lovelorn vicar, Mr Farebrother, shows so much compassion for humankind he could give Doctor Who a run for his money.
Caleb Garth (Michael Lumsden) and Mrs Garth (Lucy Tregear)
The delightful set is designed by Sam Dowsen and suggests blossom and bowers as well as Middlemarch homes large and small on the tiny central stage. And you'd have to be full to the brim with unseasonal bah humbug not to have your spirits lifted at the play's end. Don't miss it!
The Middlemarch Trilogy runs until February 1, 2014
including Trilogy Days with all three plays performed on one day. Thursday matinee tickets include a post show discussion.
The Doctor's Story runs until November 30 then returns December 19
Fred and Mary starts December 4
Dorothea's Story returns December 17
Liz Vercoe
Photos by Robert Day

December 10, 2013