Venturing Across the Thames
The Botanist has recently undergone a complete transformation, with the inclusion of a micro-brewery onsite and a vast range of bottle beers (about 80). It's a very pleasant building to spend time in, with beer drinkers and diners both being well treated.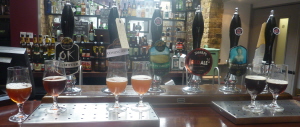 We went on a sunny afternoon and the chief brewer Mark was kind enough to spend half an hour talking about his beers and giving us tastes. There are about half a dozen beers in production, with Pumpkin Ale made from pumpkins supplied by Kew Gardens in production for Hallowe'en. We sampled OK bitter (on the left), a slightly fruity wheat beer called Kew Green (middle) and a beautifully light London porter called Night Porter (right). They were all delightfully smooth, tasty and different.
All I will say is, if you're not much of a real ale drinker, go along and have a try of the Botanist beers and maybe you'll discover something new. If you like your real ale then do spend an evening sampling their beers.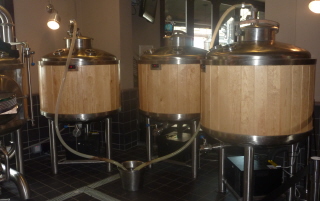 The Botanist brews their own beer, not just on the premises, but in front of you where you can see and smell.

Eventually we decided we better sit down and eat.

I had chicken liver paté with salad and crusty bread. The crusty bread was gorgeous; it comes from Exeter Street Bakery in W3. The pate was about on par with that found in an average supermarket in that it lacked texture and taste and it came with garnish, not salad. The chutney was sweet and tangy and the same as the one accompanying with the cheesboard.
My companion made the better choice, which I would have made had she not beaten me to it. Caramelised leek and onion tart with blue cheese and balsamic vinegar drizzled. It was quite perfect, with a decent quantity of well caramelised red onions and leek that were rich and sweetened with the touch of blue cheese cutting through that richness.
For my main course I had pan fried wild hake with new potatoes, sun dried tomatoes, green beans and Hollandaise sauce. The hake was light and nicely flaky but with a good meaty texture (and a pile of bones). The Hollandaise was light and creamy, adding to the fish rather than smothering it. The green beans went well with the rest. But what were the sun dried tomatoes doing there? A good handful of them were added on; they were bitter, added nothing in contrast to the flavours and didn't add balance. A total mistake (mushrooms would have been a better choice).
On the other side of the table was a meaty choice: pork belly with crushed new potato, spinach and cider sauce. The pork belly was very tender with crispy crackling. Hiding underneath the meat was a nice mixture of new potatoes roughly crushed with spinach that had managed to not go soggy. Possibly another separate vegetable might have balanced out the quite large portion of spinach and potatoes. Unfortunately there was not enough of the cider sauce for the delicate cider flavour to permeate through and it would have been nice to have a jug of sauce on the side.
I normally have about 3 mouthfuls of sticky toffee pudding before wishing I hadn't bothered. This was a lightly flavoured sponge rather than the usual stodge with a light but rich toffee sauce that was generously poured over. It came with fairly unexciting vanilla ice cream but it was a very satisfying pudding.
My companion eschewed puddings for a nice selection of British cheeses which came on a board accompanied by lightly toasted walnut and raisin bread with plum and apple chutney. The bread was fantastic. The cheeses were a stilton, cheddar and a cornish yarg. The pudding selection was a bit limited and could do with improvement.
There was a wine list but I will admit to not bothering to look. Did I mention there was beer?
Each evening has its own flavour, with steak and quiz on Wednesday to live acoustic music on Saturday. They even have their own record player on which you can play records which you can bring with you.
The Botanist is a warm, welcoming place with a comfortable mix of diners and drinkers in a well ventilated building with comfy sofas as well as proper chairs. Not every pub can act as a good restaurant simultaneously but it works. The food needs slightly tweaking but the manager assured me he had the sun dried tomatoes in hand and hopefully other details will follow.
The bill for 3 courses came to just under £50 for two people and their own beer was a very reasonable £3.40-£3.60 a pint. The bottled beers were £5-6 each. There is also a bar menu with croque monsieurs, platters of food to munch that looked interesting. Despite the imperfections we enjoyed our afternoon and would happily go back.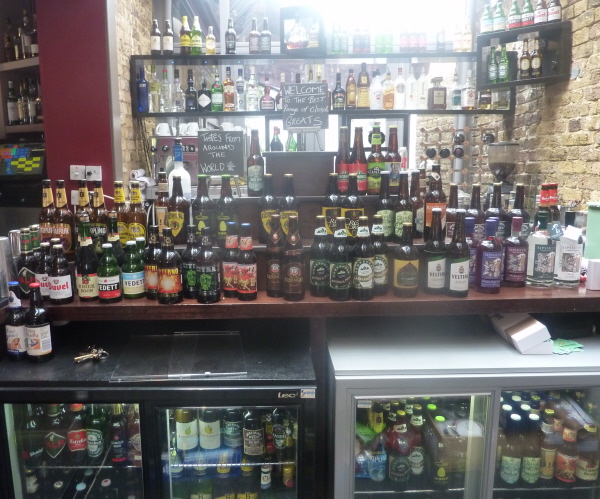 Did I mention the beer?

Kath Richardson
March 15, 2012