Not all that glitters is gold in new offering at the Lyric, says Bill Hagerty
Spraying 21st century glitter on to a reworked version of John Webster's 500-year-old revenge tragedy, The White Devil, achieves the fizz of good champagne during much of what writer Hayley Squires has turned into a fast-moving caper of modern moral decay and a society dominated by PR and celebrity. Unfortunately, just like champagne, Glitterland's glitter sometimes fizzles out, appearing to take a metaphorical bow for its cleverness and a few deep breaths before delivering another healthy swig.
The Lyric's Secret Theatre project has in previous shows and again now provided an element of surprise for patrons, the subject and title of each offering not being revealed in advance. This neat device has become largely irrelevant in that loyal audiences now expect the unexpected, which means that this fourth piece, being largely the sort of thing one might expect from a vibrant young company, hoodwinks only those in search of cutting-edge radicalism. The gimmick has bitten its creators and has probably run its course.
That's not to say that when Glitterland is really fizzing it doesn't enthral, making us spectators of a violent world of criminality and greed, fuelled by lust, naked ambition and frequent LSD hits that induce momentary ferocious spasms. The dialogue is sharp and so are the performances, with Leo Bill outstanding as Nemo, a single-minded fixer bent on fulfilling every amoral and/or criminal wish of unstable big-shot Ciano (Hammed Animashaun).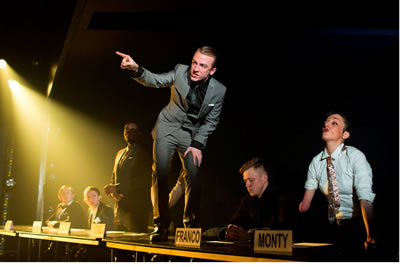 Hammed Animashaun, as Ciano, and fellow cast members. Picture by Helen Maybanks

The preponderance of names ending in O – Milo, Franco and Ludo are also there – reflect not just Webster's Italian setting but Mafioso-like contempt for decent behaviour. Indeed, Tony Soprano would have slotted comfortably into the action.
Unaccompanied song – especially that from the Marilyn Monroe-esque Victoria (Katherine Pearce), one of Ciano's stop-at-nothing-to-get desires – enhances the mood, although the applause that greeted a snatch of lyric asking "When can you stop the rain from falling down?" was due more to the gale blowing outside than the sweetness of the singing.
Ellen McDougall's direction drives the plot along at a gallop and Hyemi Shin's plain grey panels that constitute a set – sensible in a cluttered Lyric that's heavily into a rebuilding programme – plus minimal props, only some of which survive even the most frantic action, add to the claustrophobic atmosphere. The pace rarely slackens, nor does an intensity that at its height dampens the palms.
A spectacular failure when premiered in 1612, it took 18 years for the play to find its feet and have its satirical view of moral and political corruption accepted. Despite my caveats, Glitterland's arrival has a lot more instant impact than its source.

February 17, 2014