Eclectic surrounding and generous portions keeps everyone smiling
Related Links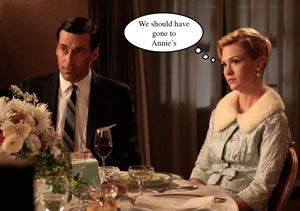 Participate
Annie's is open 7 days a week from 10am to 10.30pm at 36 White Hart Lane, Barnes
Telephone 020 8878 2020 and at
162 Thames Road, Chiswick
Telephone 020 8994 9080

Rock & Rose
106 - 108 Kew Road
Richmond TW9 2PQ
0208 948 8008

Instead of a home cooked Sunday lunch again it was time for a change & a break for the regular chef (aka me!) so we set off to Annie's - a quick cycle ride away.
Annie's are proud of their quirky interiors with a mis-match of chairs, tables and extravagant chandeliers. The staff are very welcoming and nothing was too much trouble for 'Markie Mark', our waiter on Sunday. The staff took the time to make sure we were satisfied with all our orders each time they arrived, even though they were clearly very fully occupied with a busy Sunday lunchtime crowd. The restaurant was full and buzzing with chat from all age groups.
Owner Lorraine Angliss describes her menu as "'modern Brit-erranean', taking our influences as much from comfort food as from fresh Mediterranean flavours". Our starters included crispy squid (£7.95) - these were breaded rings of squid with fresh chilies and a salsa of pineapple and onion. The combination of sweet and piquant flavours worked really well. The kids went for their regular order of hummous with toasted pitta bread (£5.95) with a plate of bread & olives (£5.95) to share, whilst I opted for the beef salad - tender strips of beef with rocket, roquefort and radishes with a balsamic glaze (£8.95). The balsamic was very treacly and gave the beef a rich texture.
Main courses arrived and portion sizes are generous on all the plates - the battered haddock & chips caused raised eyebrows and admiring glances from our neighbouring table who followed suit and ordered their own (£12.95). This is a regular favourite with the family - the batter is batter is always very light and crispy, over a chunky haddock fillet. This time the peas were petit pois, with a fresh texture. The chips served with this dish are medium size - large enough to taste the potato properly. The steak burger with cheese (£10.95) arrived with a bowl of fries and all the trimmings on a long wooden platter - oozing with melted cheese and cooked to your preference (including rare). The 21 day hung rib-eye steak (£21.95) with salad and chips melted in the mouth - it comes with a choice of Bearnaise or pepper sauce, and comes highly recommended.
Bearing in mind the generous portions, finding room for a dessert is hard but if you are a 'sweet' person perhaps you should keep some space for a choice of desserts all priced at £5.95. Traditional apple & blackberry crumble taunted me whilst the sticky toffee pudding and Annie's banoffie pie looked "truly scrumptious". On the simpler side, one of our sons ordered white chocolate ice cream, which earned praise for a very high chocolate content!
The wine list at Annie's is extensive with prices ranging from £14.95 to £44.95 a bottle (excluding champagnes). Importantly for us, the range offered by the glass is also extensive, ranging from £4.25 - £10.50. We were very pleased with our selection of a sauvignon blanc, "The Frost Pocket", from New Zealand.
Annie's has a crowd of regular customers in Barnes & Chiswick - the first restaurant opened in Strand on the Green nine years ago. Barnes followed a year later and Rock and Rose on the Kew Road another five years after that.
If you have not tried it yet then the message from this family is "'get on your bike' and go try for yourself."

Sandi Bloomfield

December 1st, 2011