Ruth Cadbury unseats Mary Macleod in local constituency
The new MP for Brentford & Isleworth is Labour's Ruth Cadbury, who won the election with 25,096 votes, a victory by a narrow margin of just 465 votes. The Labour candidate increased her party's share of the vote by 10.2% with a total of 25,096.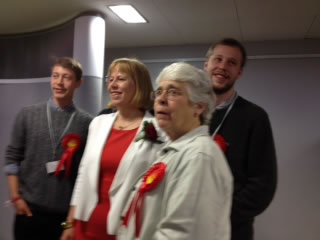 Ruth Cadbury celebrates her victory with her mother and family
The incumbent, Mary Macleod also managed to increase her share but fell agonisingly short of what she needed to hold on to her seat. She polled 24,631 votes.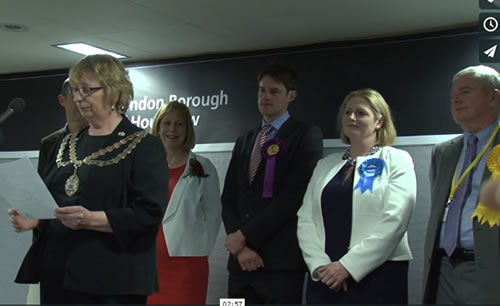 Declaration by Returning Officer Corinna Smart as candidates wait. Pic - chiswickbuzztv
The biggest swing in the constituency was the collapse of the Liberal Democrat vote which fell to just 4% with the party finishing fourth, behind UKIP, whose candidate Richard Hendron, got 3,203 votes.
Ruth Cadbury with husband Nick and sons Joe and Sam
Chiswick Buzz's Report from the Brentford and Isleworth Count


The result was announced at 5 a.m. by the Returning Officer and Mayor, Cllr Corinna Smart. There were loud cheers when the votes for Ruth Cadbury were announced. In her victory speech, Ruth Cadbury paid tribute to Mary Macleod for her work in the constituency in the past five years. She thanked her mother and late father for instilling the values of social justice in her. She also thanked her husband and two sons, as well as the Labour team in the constituency and pledged to work for a fairer society.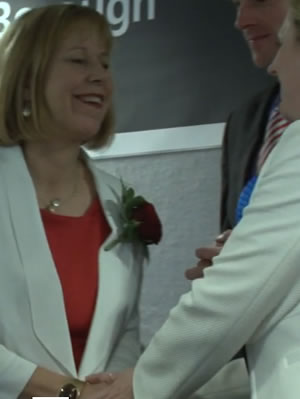 Mary Macleod congratulates Ruth Cadbury. Pic - chiswickbuzz tv
After the result was declared, Ruth Cadbury and her family left to celebrate with Labour activists and supporters who had been at campaign headquarters in the constituency waiting for the result.
Brentford and Isleworth Constituency - Result 2015
Candidate
Party

2015 Result

2010 Result

%
Change
Ruth Cadbury
Labour

25,096

18,064

43.8

+10.2

Mary Macleod
Cons

24,631

20,022

42.9

+5.7

Richard Hendron
UKIP

3,203

863

5.6

+4.0

Joe Bourke
Liberal Democrats

2,305

12,718

4.0

-19.6

Daniel Goldsmith
Green Party

2,120

787

3.7

+2.2

Majority

465

0.8

Turnout

57,502

67.8
Mary Macleod said she was "very disappointed" to have lost by such a narrow margin. She paid tribute to her election and parliamentary team whom she said had done an "incredible amount of hard work". Asked by chiswickw4.com if she would remain in politics, she said that she would take a break as it had been a long campaign and "who knows what's around the corner". She wished Ruth Cadbury all the best. Over the past five years in Chiswick she had met "some amazing people" who had worked tirelessly for the community. After making her comments, she left to have a drink with party workers and family members.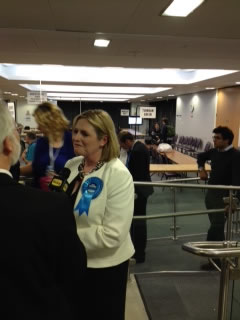 Mary Macleod after the result was announced
Joe Bourke of the Liberal Democrats was also "disappointed" to have polled lower than UKIP's Richard Hendron. The Brentford-based accountant came in fourth place with 2,302 votes. However, he said he received very good support in Chiswick, particularly in the Riverside and Turnham Green wards and he would focus on this area in future.
The Green Party's Daniel Goldsmith polled 2,120 votes and said he was very happy that his party had increased its share of the vote in the constituency since the 2010 election. Richard Hendron of UKIP said coming third was " a great success for UKIP tonight. We achieved nationally over 12% of the vote and over 90 second places. This is a great base to work from. What is clear that the voting system needs looking at. Despite being the third largest party we only got one MP. I congratulate Ruth on her success and wish her well and hope that she provides proper representation for the people of B&I. "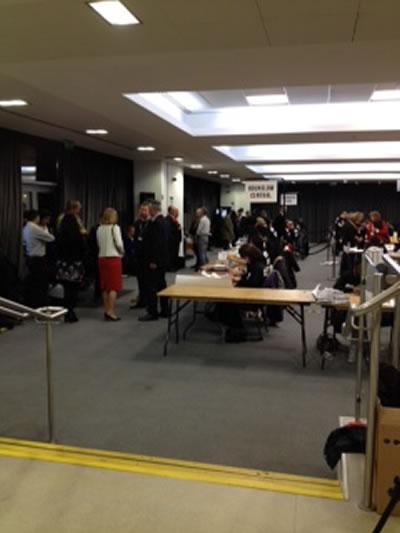 The scene at the Civic Centre as votes were being counted
The turnout was 67.97 % and there was a high percentage of postal voting this time at over 10,000. A total of 57,502 votes were cast and there were 147 spoiled votes.
Brentford and Isleworth Constituency - Result 2010
Candidate
Party

2005 Result

2010 Result

%
Change
Mary Macleod
Cons

13,918

20,022

37.2

+6.5

Ann Keen
Labour

18,329

18,064

33.6

-5.4

Andrew Dakers
Liberal Democrats

10,477

12,718

23.7

+0.7

Jason Hargreaves
UKIP
-

863

1.6

+1.6

John Hunt
Green Party

1,652

787

1.5

-2.1

Paul Winnett

British National Party

-

704

1.3

+1.3

David Cunningham
English Democrats
-

230

0.4

+0.4

Aamir Javed Bhatti
The Christian Party
-

210

0.4

+0.4

Evangeline Pillai
Christian Peoples Alliance
-

99

0.2

+0.2

Teresa Vanneck-Surplice
Independent
-

68

0.1

+0.1

Majority

1,958

3.6
May 8, 2015