Musequality needs them for youth band in Uganda following a robbery
The Musequality charity has appealed for donations of brass musical instruments to help a youth band in Uganda whose instruments have been stolen.
The Elgon Youth Brass band has had to cancel performances following a robbery at their music store in which most of their instruments were taken. Twenty five instruments and two computers were stolen in the robbery last Monday.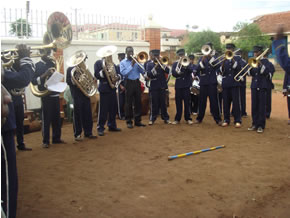 Funded by Musequality and The Girdler's Company, local man Fredrick Kyewalyanga set up a home for street children and taught them to play music. Proudly parading in their smart blue uniforms the Elgon Youth Brass Band is now in increasing demand for weddings, conferences and trade shows, but also to play at special occasions.
Last year they were chosen to play at the hero's welcome home given to Uganda's Olympic marathon runner Stephen Kiprotich, who won Uganda's first gold medal in 40 years at London 2012.
Musequality is a Chiswick-based charity which helps to teach music to street children in developing countries. The charity has been offered space on a container sailing to Uganda in mid-March, and is asking for instruments to be given to them preferably by March 15th.
A spokeswoman said: "You can imagine that this is a body blow to the kids, who have little else and they've had to cancel all their gigs, including for today's International Women's Day celebrations.
If anyone can help could they please email info@musequality.org or call Daniella on 07961 377772. Their website is www.musequality.org .

March 8, 2013