Local Conservatives pay tribute to the former MP
Local Conservative councillors have paid tribute to the former MP Mary Macleod and described her as an "outstanding and hard working champion for our area".
Mary lost her seat in last week's election by 465 votes, to the Labour Party's Ruth Cadbury, who will now represent the constituency in Parliament.
Leader of the Conservative grouping on Hounslow Council Cllr Peter Thompson said, "It was extremely disappointing to lose Mary Macleod as our MP. Mary was an outstanding and hard working champion for our area and we benefitted in many ways from having an MP at the heart of government".
Mary Macleod has thanked all those who supported her over the past five years during her term as Member of Parliament for Brentford and Isleworth.
Mary said she was disappointed she had not been re-elected, but she was delighted that there was an overall Conservative majority and that she was able to increase her vote by more than 4,500.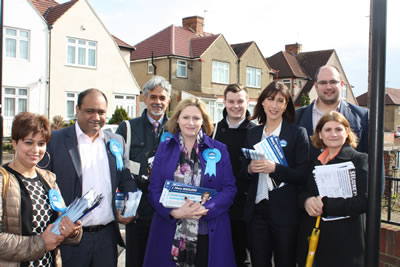 Pictured on the campaign trail with Samantha Cameron
"It has been an honour and a privilege to serve residents in Chiswick, Brentford, Isleworth Osterley and Hounslow. I have met some incredibly inspiring people along the way.
"During my time in Parliament, unemployment went down by 38% and youth unemployment reduced by almost 50%. I secured 30 minutes' free parking, helped to deliver 9,400 new businesses and 2,400 new apprenticeships; reduced crime by more than 16%; got agreement for four new schools; confirmed that the Piccadilly line will stop at Turnham Green and supported more women into work than ever before.
"There is, naturally, more to be done to improve the lives of local residents and regenerate the area and I'll be sad not to be a part of this, but I wish the new MP all the best over the next five years.
"I would like to thank everyone I have worked with on community projects and all those who have shown me friendship and support over the past five years. I have always tried to champion the local community and transform lives for the better and will miss working with local residents."
In an interview with LBC, she said she was going to "catch up on some sleep" over the next while, following the long campaign.
Councillor Peter Thompson welcomed the recent election of the Conservative Party to office as "great news for Hounslow".
Councillor Peter Thompson said Hounslow Conservatives will champion hardworking people in Hounslow who do the right thing and will continue to hold the Labour Council to account and scrutinise all its decisions.
"Hounslow Conservatives will not let this Labour Council off the hook. We will not let them use the tired old argument of "It's your government's fault" as an excuse for higher Council Tax and an inability to do things" said Councillor Thompson.


May 13, 2015