Visiting shops across her constituency in support
Local MP Mary Macleod, together with local traders, planned a day filled with activities to promote Small Business Saturday last weekend as part of her role as Small Business Ambassador for London.
Since being elected in 2010, Mary has made supporting small businesses a priority. In her constituency of Brentford and Isleworth, she has persuaded Hounslow Council to introduce a 30 minute free 'stop and shop' policy and regularly meets with local traders to discuss their concerns and opinions. She also recently secured a meeting with the Prime Minister to discuss a review of business rates and was credited by the Chancellor during the Autumn Statement for persuading him to put a cap on business rates.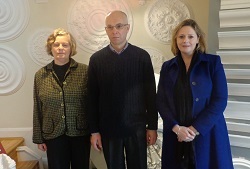 Jo and Kris Krzyzanowski from CS Interiors on Commerce Road in Brentford and Mary.
Mary began Small Business Saturday by visiting Park Avenue News in Hounslow with Councillors Pam and Brad Fisher, then she was accompanied by the Federation of Small Businesses to CS Interiors, an interior design company in Brentford. She then went to local shops on Thornbury Road in Osterley before heading to Brentford High Street with Susie Betlem, President of The Brentford Chamber of Commerce.
Commenting, Mary said: 'I am delighted that Small Business Saturday came to the UK for the first time this year. Small businesses are the lifeblood of our economy. It was fantastic to see people visiting local shops to view the fabulous gifts and unique products they had to offer. I am determined to make Small Business Saturday more successful and beneficial for small businesses every year.'
Mary also teamed up with local businesses to organise the Small Business Saturday Treasure Hunt around Chiswick to encourage local families and residents to explore some small shops and businesses they may not even have noticed before. There was an iPad mini up for grabs as well as many other top prizes. Pot Pourri won the 'Best Christmas Window' nomination, with Gail's, The Good Wine Shop and Snap Dragon also highly praised. Whisk, Outsider Tart and Foubert's were the top nominees for 'Favourite Small Business in Chiswick', with Macken Brothers in second place.
Mary added: 'The Small Business Saturday Treasure Hunt was a great success and I want to thank all local families and residents who took part. I am particularly thankful to Barclays for donating the iPad mini for the Treasure Hunt and all the other fantastic local businesses that were so generous in offering prizes and taking part on the day. I will be contacting the winners this week to congratulate them and give them their prizes.'
July 10, 2012