Work on Thomas Layton's Library
Related Links
Participate
Comment on this story on the forum
The Layton's Library Project, supported by the Heritage Lottery Fund, is now recruiting a team of volunteers to work with some of the most exciting and unusual 17th and 18th century books from its collection.
Over eighteen months, the volunteer team will research and have the opportunity to create exhibitions at Hogarth's House and Boston Manor House, contribute to the Layton Collection website, create a new print publication, help to organise a Georgian book club, support a range of workshops on paper making, book binding and marbling paper, and to act as stewards at the exhibitions themselves.
If you have a strong sense of curiosity, an interest in the past and are keen to share that with other people in the Brentford area, then this could be the project for you! Further details on Layton's Library and how to apply for the project can be found at: laytoncollection.org.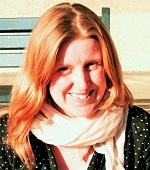 Sarah Hutton has been appointed as the Project Co-ordinator to lead on the 'Layton's Library: Discovering a Hidden Book Collection' project. She will be working closely with the Layton trustees and the team of volunteers to open up Thomas Layton's fascinating book collection to the local residents of Brentford and beyond.
Sarah has considerable experience within the archival sector gained during her time as Principal Records Specialist at The National Archives, as well as a strong background in history education and lifelong learning through her work with a number of London based heritage organisations. Upon appointment she stated that she was '…thrilled to have the opportunity to work with such an engaging collection, and to run the group of local volunteers who are going to bring this hidden collection to life'.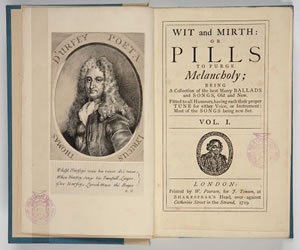 One of the thousands of books in Layton's collection. A collection of ballads and songs, "Pills to purge melancholy", made by Thomas d'Urfey in 1719
The way that Layton put together his collection reflects his incredibly eclectic interests, with books seemingly on every topic, from natural history to architecture; philosophy to poetry and guide books to classical texts. Yet, what unites the 8,000 strong library of books is Layton's guiding ethos of wanting to make everything he collected available to the community of Brentford itself. Sarah went on to say that, 'to think that over a hundred years after his death, this wish to bring the diversity of his collection to the diversity of individual people within Brentford itself will finally be granted, makes this project incredibly rewarding'.
July 17, 2015