Don't put out extra bins over festive period or they won't be collected
Related Links
Participate
Comment on this story on the forum
Christmas may be regarded as a time of excess but not where Hounslow Council's rubbish collection is concerned. This year they have warned that anyone putting out extra rubbish beside their wheelie bin will have to deal with it themselves.
The Council says 70% of the extra waste generated over Christmas can be recycled. Real Christmas trees will be collected for recycling during January 2016.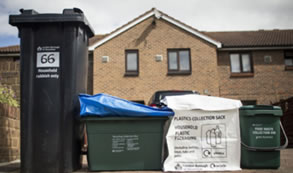 All excess waste is recorded by collection crews. Anyone caught dumping excess waste on the streets will face a fine of £80, warn the Council.
Any bags placed beside or on top of wheelie bins will not be collected. Bins where the lid is open or not firmly closed will not be collected.
"Hounslow residents receiving wheelie bin rubbish collections are reminded not to leave additional bags out for collection during Christmas and the New Year to avoid having to get rid of them themselves.
"Only waste in wheelie bins is collected to limit the amount of rubbish households can throw away, which encourages residents to recycle more."
Staff will not return to collect any excess rubbish and residents will need to take any uncollected waste to Space Waye Reuse and Recycling Centre, Pier Rod, Feltham, or a civic amenity in neighbouring boroughs of Richmond, Hillingdon or Ealing.
More than 40,000 households across the borough now use wheelie bins to contain their waste- despite their unpopularity in some areas. A further 24,000 households will receive a new bin in the New Year.
You can recycle:

• all wrapping paper
• cardboard packaging from presents or food
• food packaging like plastic pop bottles, plastic pots and tubs from chocolate boxes
• glass drinks bottles and jars
• drink tins and mince pie wrappers
• all leftover food that cannot be eaten or frozen.
Revised waste and recycling collections will be made during Christmas and the New Year.
You need to place your Christmas tree out for collection on your normal garden waste collection day (this can be found through the collection day finder). Only real Christmas trees will be collected, all decorations, pots and stands need to be removed before they are placed out for collection.
Residents living in flats can also arrange to have their real Christmas tree to be collected.
Contact the Council to arrange a collection, by emailing recycling@hounslow.gov.uk or by calling 020 8583 2000.


December 22, 2015