Visits those sorting the post for Christmas deliveries
Related Links
Participate
Comment on this story on the forum
Festive greetings were all around at the Hounslow Royal Mail Delivery Office, when the Mayor of Hounslow dropped in to say a big thank you at what is the service's busiest time of the year.
Councillor Nisar Malik popped in to see staff early on Monday - the last day for posting cards and gifts by first class post in order for them to arrive by Christmas Day.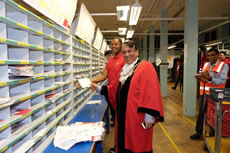 The Mayor enjoyed a walk around the office in Holloway Street to see how staff were sorting parcels, cards and letters in order to get them out across London in time and enjoyed a look behind the scenes.
He was introduced to postmen and women who were busy sorting mail for Hounslow residents.
Cllr Malik said: "There is huge amount of effort and dedication that goes into delivering a first class Christmas service at Royal Mail's busiest time of the year.
"It was great to meet the team here at Hounslow. Our postal workers do such an important job at Christmas and I wanted to thank them for their efforts and wish them all the best over the busy festive period."
While it was the last day for posting first class today, there is still time for special delivery parcels, but they must go out by Wednesday 23 December to have a chance of arriving in time.
Alan Hill, Royal Mail Delivery Office Manager at Hounslow said: "We're very grateful that the Mayor visited the office to support the team and see the operation in place.
"Our postmen and women are working extremely hard to deliver Christmas cards, letters and parcels to people across Hounslow. We would like to remind customers to post as soon as they can now and to make sure to use postcodes as this helps us to deliver them much more quickly."
December 21, 2015