Sets out vision for development of borough over next 15 years
Related Links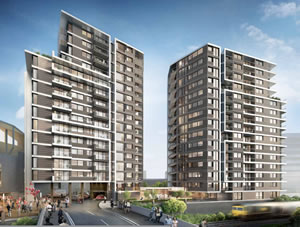 The Brentford Stadium enabling development will led to over 900 flats being built
Participate
BrentfordTW8.com and ChiswickW4.com
Comment on this story on the forum
Hounslow Council has unveiled it local plan which sets out its vision for the development of the borough over the next 15 years.
It is the result of extensive work over the past two years, including several rounds of public consultation and a public inquiry.
Hounslow Council's over-arching vision for the future of the borough over the next 15 years will provide the strategy, development site allocations and policies to be followed when the council decides all new planning applications.
It also sets the tone for how money contributed to council coffers by developers will be spent to fund new infrastructure and services.
This new Community Infrastructure Levy will help pay for new schools, medical surgeries and leisure facilities, as funding new transport links to serve new and existing communities over the next decade. Parts of the west of the borough and areas surrounding The Golden Mile have been earmarked as ripe for regeneration, to tap into the borough's bourgeoning tech and media industry – now already the second largest in the capital according to the Council.
The Local Plan, which was given unanimous approval at the Borough Council meeting on Tuesday 15 September, puts emphasis on the need to make sure all new developments are in keeping with the borough's heritage, natural environment and open spaces and designed to be sympathetic to existing homes and businesses.
An ambitious target for more than 12,330 new homes has been set, with 40 per cent to be at affordable levels.
Councillor Steve Curran, Leader of Hounslow Council, said: "This Local Plan has been meticulously created over the past two years to target areas that will benefit from regeneration over the next 15 years. It is an exciting opportunity to channel our efforts into improving these areas for the people who live and work in them. We want to make the London Borough of Hounslow a great place to live and work for Hounslow families.
"Of course all new developments will have to pass the same rigorous planning processes as they do now but this plan is our vision of how Hounslow will look and it will serve as guidance for developers. This is a once in a generation opportunity."
The Local Plan has been subjected to a public inquiry examination led by a Government-appointed inspector, who considered all comments and objections made to earlier drafts of the plan. The adopted plan includes all the modifications he thought should be made to earlier drafts to make it legally compliant and sound. There is now a six-week window for any legal challenge against any error made in the legal procedures followed.
The formal Adoption Notice and full details are available on the Local Plan page of the council's web site.
September 26, 2015