Offering support and reassurance to the disabled as they shop
Related Links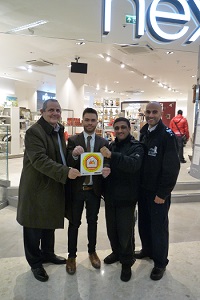 Picture shows (l to r) Councillor Steve Curran, Leader of Hounslow Council, James Ryan, Deputy Manager of Next Hounslow, Jaspaul Vilkhu, from Speak Out in Hounslow, a local charity for people with learning disabilities and Sergeant Ehab Al-Hashimi from Brentford Safer Neighbourhoods Team.
Participate
Comment on this story on the forum
Hounslow Council and the Metropolitan Police have launched 'Hounslow Safe Place', an initiative designed to provide reassurance and support for disabled people in local town centres.
The initiative comes in response to evidence that disabled people, especially those with learning difficulties, tend to experience more crime or harassment than the general population. Local shopkeepers have been asked to sign-up to the scheme and display a 'Safe Place' sticker in their shop window, to signal to disabled people that they will find support and help inside. In the event of an incident, the shop staff will then help by contacting carers, friends or relatives of the victim using a simple contact card.
As Councillor Steve Curran, Leader of Hounslow Council, explains: "It's a sad fact that disabled people are often singled out for abuse, bullying or crime on the High Street. Through Safe Place we aim to give them the confidence that if anything happens, even they just get lost or fall ill, they can quickly get support."
Shopkeepers in each of Hounslow's main shopping centres have been quick to join in, and the scheme will be rolled out to other locations in the New Year.
Nick Benjamin and Sally Malit Co-Directors of Speak Out in Hounslow said "We at Speak Out in Hounslow think this is a great initiative that will make our members feel more confident when they are out and about in the community . Let's hope it is something that can be rolled out nationwide for the benefit of all learning disabled adults" .
Sergeant Ehab Al-Hashimi from Brentford Safer Neighbourhoods Team said: "The Safe Place scheme is a great example of how the police are working with our partners in supporting disabled people and ensuring they can easily access support and emergency services.
"The large number of businesses already signed up to this scheme shows the positive attitude local businesses have towards people with disabilities and their willingness to assist them when they need help."
December 18, 2014