Incidents have fallen but it remains a huge issue
Figures just released show that incidents of domestic violence fell by four per cent during December and January this year, but partners say campaigning on awareness and prevention will continue.
Hounslow Council, along with the borough's police, ran an awareness-raising campaign - "Don't break a heart" - on poster sites across the borough over Christmas and the New Year.
Cllr Sue Sampson, whose sister was killed in a domestic violence incident, said that all the agencies concerned would continue to raise awareness and campaign on the issue.
Cllr Sampson said: "The fall in incidents is encouraging but the work will continue. We need to raise awareness of how to report domestic violence, and of the impact it has on people's lives. One single incident is one too many."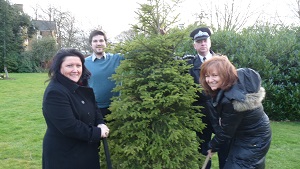 Pictured: planting the tree of remembrance, from L-R: Cllr Sampson, Cllr Mayne, Chief Inspector Rob Weir and Brenda Spink of Refuge
The council planted a pine tree – the campaign's centrepiece during Christmas – at the Civic Centre as a permanent reminder of the issue and a memorial to those who have suffered or lost loved ones to domestic violence.
Cllr Ed Mayne, cabinet member for community safety, said: "The definition of domestic violence has been broadened to include young people between 16 and 17 who also experience violence and abuse from partners and family members. It's about saying, no matter who you are or your circumstances, violence is unacceptable."
Sandra Horley CBE, chief executive of Refuge, says: "Refuge has worked closely with Hounslow Council to combat domestic violence for many decades – in fact, we opened the world's first safe house for abused women and children in this very borough in 1971.
"Domestic violence continues to be a huge issue, despite the recent fall in incidents. Two women are killed every single week by current or former partners in England and Wales. We must keep working hard to protect the vital services that keep women and children safe.
"And we must continue to raise awareness of domestic violence so that victims know where to go for help. Reaching out for support can be the first step towards living a life free from fear."
March 6, 2013