Street cleaners will provide a new night time service in borough
Street sweepers from Hounslow Highways will be working at night to help make the borough's town centres cleaner when workers and shoppers arrive in the morning. As well as an evening service, Chiswick High Road and Hounslow High Street have an extra boost with two street cleaners with barrows.
The new night time service - a first for Hounslow – is part of an on-going drive to make Hounslow a cleaner, tidier, borough. The Council says that with more people about in the light evenings, the bins are filling faster.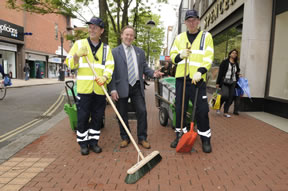 Cllr Colin Ellar with street cleansing staff
The Council says that figures from Keep Britain Tidy (KBT) have shown that the borough's streets are getting cleaner since the start of the Hounslow Highways contract in January.
The figures reveal:
24% improvement in litter levels
A total of 80% less fly posting
50% less graffiti
Councillor Colin Ellar, deputy leader of Hounslow Council and cabinet member for environment, said: "This new night service and the encouraging figures from Keep Britain Tidy show that Hounslow Highways are beginning to make in-roads into making our borough cleaner.
"There is still some way to go and there should be no resting on laurels. I want Hounslow to be one of the cleanest boroughs in London."
The new street cleaning operation will see the borough's high streets cleaned until 10.30pm, seven days a week. The extra evening service means there is a street cleaning presence throughout the borough for a total of 16.5 hours each day, with cleaning work starting at 6am.
Two street cleansing workers and a caged vehicle are present in Hounslow's East, West and Central areas, while Chiswick High Road and Hounslow High Street have an extra boost with two street cleaners with barrows. Hounslow West will have one worker with a barrow keeping the area litter-free.
Hounslow Highways Environment Services Manager Rebecca Mastrogiannis said: "Throughout the spring and summer, when evenings are lighter, there are more people out and about and the bins fill up much faster and need to be emptied more regularly.
"It is not always enough to finish at 6.30pm, so under the new schedule, it means that early in the morning the streets are still clean from the previous evening. There is already such a difference in the high streets."
June 11, 2013