Councillor Sachin Gupta is originally from Amritsar in India
Cllr Sachin Gupta has been elected as the London Borough of Hounslow's youngest ever mayor.
Cllr Gupta, who is 37, became a Hounslow councillor in 2010, when he was elected to serve as a councillor in Bedfont.
He was also made cabinet member for education that year, a year later becoming cabinet member for communities. He added communications to his portfolio in 2012.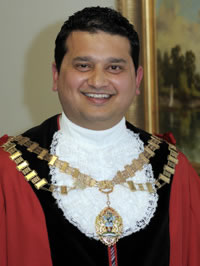 The deputy mayor for the year is Cllr Corinna Smart, former cabinet member for environment, who represents Hounslow Heath ward.
Cllr Gupta said: "It is a very great honour to be made mayor and I am truly humbled.
"I have a very tough act to follow taking over from Cllr Pritam Grewal but I am looking forward to what promises to be a busy and challenging year."
Cllr Gupta announced his two charities for the coming year which will be Ovarian Cancer Action, and the Tropical Zoo, now based at Hounslow Urban Farm, at the mayor-making ceremony on Tuesday 15 May.
He said: "Both charities are causes close to my heart. A family member has battled against Ovarian cancer, and I also wanted to choose a charity which was located close to my ward, with links to children and young people, so the Tropical Zoo was ideal.
"I want to use my mayoral year to help develop links and relationships with all of our communities, but keep a particular focus on the young people across the borough."
Cllr Gupta came to the UK in 1998 and is originally from the historic and holy city of Amritsar in northern India, home of the Golden Temple.
Having completed an MBA in the UK, he now works for Heathrow Airport Limited where he is a facilities inspector. He is married to Shalu, and they have two children, Aryan, aged five, and Sienna, three. The family live in Bedfont.
In his spare time he is a keen cricketer and badminton player.
May 15, 2013