Revamp by Hounslow Council includes charges for garden waste
Hounslow Council is planning to revamp its refuse collection service, with fortnightly collections introduced for wheelie bins, and a charge £50 for garden waste from next year.
The move is likely to annoy critics of the wheelie bin scheme, particularly in Chiswick, who say they are a waste of money, and have not increased recycling. Neighbouring borough Ealing has already confirmed its intention to switch to a fortnightly collection regime.
The Council has the lowest recycling rate in West London at 34-36% and believes the new plan will encourage people to recycle. It also believes it will save money. The councils target is to recycle 50% of municipal waste by 2020 and wants a 50% recycling target across the borough.
Hounslow Council plans to take the refuse service back under local authority control from SITA when its contract ends next year after seven years, but it also plans major changes which will impact on residents across the borough. The plans will come before next Tuesday's Council Cabinet meeting chaired by council leader Cllr Steve Curran, where members will be asked to approve the proposals which include;
A fortnightly collection for residual waste of the 140 litre wheeled bins, though a weekly collection of food waste will be maintained. The criteria for the larger 240 litre bins may be changed – they are currently only available to large families.
A charge for garden waste would be introduced from April 2016 - though the Council proposes that people who do not wish to pay can bring their waste to Space Waye recycling centre.
The refuse collection service will be brought back to local authority control when the SITA contract ends in October 2016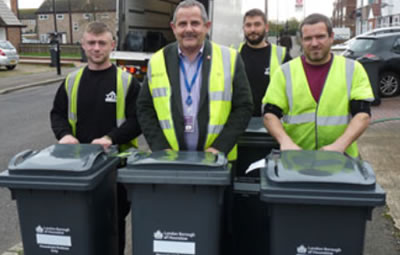 Wheelie bins being rolled out across the borough, Cllr Curran in centre front row
The introduction of a 'co-mingled' recycling service is another proposal being considered. This would mean a 240 litre wheeled bin would be collected on alternate weeks - all recycling waste would be put into the bin and collected every two weeks instead of the current system which is a weekly kerb side collection where the refuse is sorted out by the operators and put into the lorry.
If this were to happen, the recycling waste would have to sorted on a designated site. The closure of Space Waye for up to three months in 2016 (June to October) is mooted, so that an area could be developed where the collected recycling waste could be transferred for sorting. A public high level area is also to be installed - the cost is estimated at £1.68m.
The Council also needs a permanent collection fleet for when the service is returned to the local authority and a temporary collection fleet would be needed for SITA to operate the new wheeled bin service until the delivery of that new fleet.
A new ICT system would also be needed to manage the new arrangements.
There is a budget shortfall of £626,000 according to the report to be put before councillors. Of 100,000 tonnes of waste a year, 65,000 tonnes is sent to landfill. Reducing this to would save £1.3 million , say the Council.
Council cutbacks across the board of 35 per cent *( apart from childrens services) mean they have to achieve savings of £2 million.
A cabinet member decision last month approved the extension of the wheelie bins to low rise homes across the borough.
September 18, 2015