Hounslow Council honours Mo Farah and Peter Reed
Related Links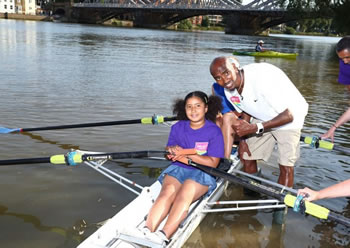 Mo Farah at a local rowing club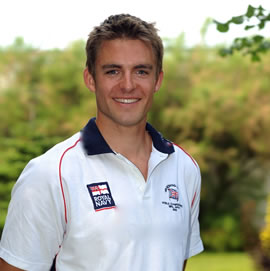 Peter Reed MBE
On the evening of Wednesday, 19 December, gold-medal winning Olympians Peter Reed MBE and Mo Farah were made honourary Freemen of the London Borough of Hounslow.

Peter, who lived in Chiswick, won his second Olympic gold in the men's coxless fours and Mo, who grew up in the borough, won two Olympic gold medals in the 5,000m and 10,000m.

Both athletes were given the Freedom of the Borough - the highest honour that a council can award - for their outstanding contribution to sport within the local area.

Due to training commitments, Mo was unable to collect his award in person, but his best man and former PE teacher Alan Watkinson was there to receive it on his behalf.
Mo sent a message saying, "Hounslow is where I grew up when I came to England and everything that I have achieved since is due in some small way to the opportunities that I had. For that I shall always be grateful. The Borough of Hounslow AC was my first athletics club where I began my athletics journey and I attended Feltham Community College where I learnt the skills I have needed every day since. It is also where I met the girl who is now my wife! Finally, through either luck or fate I met Alan Watkinson who has had such a large impact on my life. Without all of these events, places and people I would not have become the man/athlete that I am today. I am very honored to receive this award and it is a lovely way for me to cap off what has been a brilliant year."
Alan Watkinson said:"Mo came to Feltham Community School in 1994, and I first saw him hanging from a goalpost in a football lesson, I thought he'd be a challenge, but it was immediately obvious he loved sport. I remember him once setting off on road run that normally took 40 minutes with the kids coming back exhausted, but he came back giggling, having gone carol singing instead. Mo is a role model for us all and I'm blessed to be part of his development."
Peter Reed said, "It's a real pleasure to receive this honour, from the borough I feel close to, and it's link to the boat race makes it personal to me. When I was a kid, I loved blue plaques, but the gold post box is my blue plaque"

The Mayor of Hounslow, Cllr Pritam Grewal, said: "Making someone an honorary Freeman of the London Borough of Hounslow is not something which happens every day. It is the highest honour we can bestow on a citizen, and is given in recognition of the high esteem in which that citizen is held by the council, and indeed the citizens of the borough, and also for achievements of great merit."

Cllr Peter Thompson, leader of the opposition at the council, said: "Our borough is blessed with one of the most famous stretches of riverside in the land, if not the world. That fame, of course, comes from the closing stages of the Boat Race But, I that may be in the process of changing, thanks to a golden postbox by Chiswick town hall, which I hope alerted a few residents that we did indeed have an Olympic gold-medalist in our midst. Having lived and trained in Chiswick, Peter became a part of our community, and that will always be so wherever in the world sport and life takes him."
The event was held in the Lampton Park Conference Centre from 17:00 until 18:00, with a one hour invitation-only reception afterwards. The event was attended by selected young athletes and students and the ceremony itself was open to the public.
Both athletes already have golden post boxes in the borough - in Chiswick for Peter Reed and Isleworth for Mo Farah.
December 21, 2012