Paul McGregor's top priority is to tackle violent crime
Related Links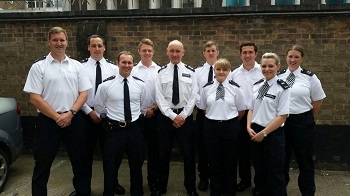 Participate
Comment on this story on the forum
I was delighted to welcome nine new officers to the borough on Monday. That makes a total of sixteen new officers on the borough since March which is exciting news. Their arrival presents an opportunity to increase our presence across the borough. My stroll down Hounslow High Street felt very safe on Monday afternoon as the new officers and their mentors patrolled in force. Not a good time to commit crime as they made three arrests on their first day.
I have today set my three key priorities for the borough over the summer months.
I am determined to tackle violence in whatever form it takes. Plans are well advanced for additional patrols during the World Cup period. There is evidence that alcohol fuelled violence can increase within the home during these events. I want to encourage any victims of domestic abuse to come forward and report incidents to the police. If you feel unable to contact the police direct, there are other ways of doing so. There is a Domestic Abuse One Stop Shop which is held each Tuesday between 10.30 and 12.30 at Montague Hall, 30 Montague Road, Hounslow, TW3 1LD.
I will continue to prioritise the reduction in burglary offences and the arrest of offenders. The borough has launched Operation NASSA to locate and arrest outstanding suspects. This operation will continue into the World Cup period. If you are wanted by the police for an offence, now might be a good time to come forward and have the matter dealt with.
We have extra police dog officers assigned to Hounslow and the dogs will be exercising in and around our burglary hot spots. I am sure that our allotment holders will not object to them running free in the early hours to stem the recent spate of sheds being broken into. It might be an unpleasant surprise for anyone in the locality with a criminal motive.
My third priority is to seek every opportunity to engage with our communities across the borough and further build your confidence in us. We need to listen to your concerns and tackle the issues that you are worried about.
I know that there has been considerable concern about knife crime on the borough following the murder of Jamil Palmer. I assured you that the investigation would be relentless in the pursuit of the criminals responsible. The investigation has made considerable progress. Five people have now been charged with the murder. In line with my priority to tackle violence I have set in motion work aimed at tackling youth violence in the longer term. I have been encouraged by the willingness of partner agencies to work with us to identify and tackle young people who we believe are at risk of offending. Our shared challenge as a borough and community is to ensure that the carrying of any weapon is unacceptable. We have a responsibility to keep the borough safe and make it a hostile environment for criminal activity of any kind.
Paul McGregor
Borough Commander
Hounslow Police
May 28, 2014