A new state-of-the art service to support homeless people in the borough of Hounslow has opened its doors.
An £800,000 refurbishment of Thornbury Lodge, Isleworth has created a flagship hostel to provide quick access accommodation, support and advice for up to 16 single homeless people.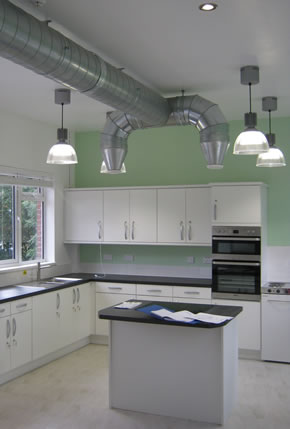 The kitchen at Thornbury Lodge
The hostel includes 10 self-contained studios, 6 en-suite rooms and a large shared training kitchen. Two units are designed for wheelchair users and there is an emergency bed to provide emergency access for rough sleepers or delayed hospital discharges.
Cllr Steve Curran, cabinet member for housing at the council, said;
"Thornbury Lodge fills a gap in our service by providing quality support to homeless people in the borough.
"These new units will help reduce our reliance on bed and breakfast accommodation, and also provides the specialist support these people need to help them move towards independent living."
Cllr Gurmail Lal, cabinet member for adult social care and health, said;
"This new facility will not only put a much-needed roof over the heads of homeless people, but has been designed to help those with more complex needs to access health services, education and training, and other life skills.
"This approach will help make sure people are helped to prepare for moving on to other accommodation when they are ready, and that we have found a sustainable solution that meets their individual needs."
The refurbishment has seen the property extended, a new communal space created a nd improvements to the garden area. It will be fully staffed 24 hours a day, and protected by CCTV cameras.
Funding for the building has come from a £300,000 grant from the Homes and Community Agency, and proceeds from the sale of Parry House. Support for the residents will come from the Supporting People programme and social care budgets.
October 2, 2012