Public consultations continue this month
Proposals for the next phase of a multimillion pound overhaul of Gunnersbury Park and Museum will be unveiled for public consultation by Hounslow and Ealing councils this month.
The next round of public consultation on the sports proposals begins with a public meeting at 7pm on Thursday 23rd July 2015 in the Terrace Room of the Small Mansion at Gunnersbury Park
The focus is a £8 million state-of-the-art sports hub, including floodlit tennis courts, artificial multi-sport pitches, grass pitches and an outdoor gym. These will be complemented with an indoor sports hall, modern changing rooms and café to provide year round facilities for residents of the two adjoining boroughs and for major London events.
If the two local authorities are permitted to go ahead with the project, the popular Park will be revamped and its historic buildings will be restored in time for its centenary in 2026.
Open to all local residents and stakeholders, the meeting will provide the latest plans which have been developed since the first round of consultation in March. AFLS+P, the Architects leading on the design of the building, will be presenting the proposals for the sports phase and will be on hand to answer any questions about the proposals alongside representatives from both councils. A further public meeting is scheduled for 8 September and the plans will be on display within the park and online prior to submission of a planning application in the autumn.
Councillor Ed Mayne, Hounslow Council's Cabinet Member for Public Health and Leisure, explains: "We hope the Sports Hub will modernise the facilities and encourage thousands more to enjoy sport in Gunnersbury Park in the future. Through the consultation we aim to draw on the expertise of users and knowledge of local people to refine and improve the plans prior to submission of the planning application."
Councillor Bassam Mahfouz, Ealing Council's Cabinet Member for Transport, Environment and Leisure, said: "Gunnersbury Park is an amazing space, which is already a hive of physical activity. This Sports Hub will meet our ambitious plans to ensure our parks are spaces which can be enjoyed, where residents can keep active and get involved with organised sports. I'd encourage people to come along to the meetings to have their say about how the plans are refined in our consultation."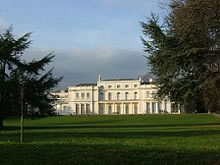 The Friends of Gunnersbury had recently asked the public to respond to a consultation on sport and a sports hub building in the Park.
Hounslow and Ealing Councils are currently engaged in a refurbishment of the Park and Museum, having been awarded a £4.7 m Heritage Lottery grant.
The works will make a number of significant improvements to Gunnersbury Park Museum, including:
• Repairing the external and internal fabric of the Large Mansion; making more areas of the building open to the public and re-establishing views into and out of the building
• Creating display rooms on the ground and first floor to properly showcase museum collections
• Refurbishing the drawing room, long gallery and dining room; along with the historic kitchen and servants rooms
• Improving the visitor reception area, signage and gift shop
• Building new learning spaces
• Installing a lift to the upper floors to improve public access
Refurbishment work will begin in the autumn 2015 and is due for completion by spring 2017. Once all of the improvements to Gunnersbury Park and Museum are completed, visitor numbers are expected to rise from 600,000 to over a million per year."
July 17, 2015