Brand new women's 10K is coming to London
Related links


The event is now open for entries, priced at £25 plus a small booking fee. For more information, top training tips and to enter, go to www.wr10k.co.uk.

Sign up for email newsletters from ActonW3.com, BrentfordTW8.com, ChiswickW4.com, EalingToday.co.uk, FulhamSW6.com HammersmithToday.co.uk, PutneySW15.com, ShepherdsBushW12.com, WandsworthSW18.com and WimbledonSW19.com
An exciting new running event will come to London next month. The capital has been selected as one of just three UK locations to host a brand new female-only race in 2013, The Women's Running™ 10K.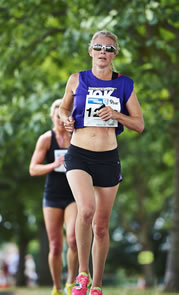 The event, which will be led by former model, busy mum and top runner, Nell McAndrew(pictured left), will start and finish at Finsbury Park on Saturday 7 September 2013.
Nell started the first race in Bristol this June, and she ran the course at the second event in Nottingham in July. She commented:
"I've thoroughly enjoyed being involved in the Women's Running 10k race series, and after running at the Nottingham event in July, I can't wait for the London race. As a regular runner myself, it's fantastic to see women of all abilities coming together en masse and supporting each other right the way around the course. It's definitely a race not to be missed and I'd encourage anyone thinking about signing up to do so now".
The Women's Running™ 10K Race Series has been organised by top UK magazine, Women's Running™ which inspires, motivates and helps women to improve their running.
Christina Macdonald, Editor of Women's Running commented:
"As a magazine that prides itself on inspiring and supporting women with their running, we are so excited to introduce the Women's Running 10K Race Series this year. The event is aimed at all women looking to achieve their own personal goals, from simply getting around a 10K course, to achieving a personal best, and we will be there to help them every step of the way".
Opened as a 'people's park' over 150 years ago, Finsbury Park offers a peaceful green retreat from its urban built-up surroundings. Participants will enjoy a flat running surface that is ideal for spectators too, perfect for seasoned runners looking to achieve a personal best time, as well as those who are new to jogging and running.
Christina said: "We had to select three UK locations for the race series, and London's Finsbury Park stood out as the perfect choice, thanks to its fast, flat nature and easily accessible location for London and surrounding counties".
The organisers are keen to stress the importance of being fit and active, not just for physical health and weight loss, but for mental health too.
Christina added: "Running is not only fantastic for your physical health, but it's also great for keeping mental health problems at bay. Running for 30 minutes, five times a week, can extend your life by up to three and a half years, and it's also been proven to increase your vitality and beat depression. In addition, it's thought to reduce signs of ageing, by producing enzymes that have an anti-ageing effect.
"Those looking to lose weight should also consider running as part of their regime. It's great for weight loss, and particularly for achieving that sought after flat tummy, as it can improve the sensitivity of muscle tissue to insulin, enabling more sugar to be used for energy rather than being stored on the belly. After a stressful day, I find there's nothing better than putting my running shoes on and giving myself time to clear my head. If that means I'm protecting my weight and overall health in the process, then even better".
To help runners around the 10 kilometre course, Women's Running™ pacers will be on hand to run around the course with participants, to help them achieve their target time. Suitable for runners of all abilities, there will be a team of four pacers, targeting times of 45 minutes, 50 minutes, 60 minutes and a run/walk group aiming for approximately 70 minutes.
The race experience includes a warm up led by Women's Running Magazine Editor, Chris Macdonald, a quality goody bag worth over £30 and a medal for every finisher, a post-race warm down, a chance to meet and run alongside race ambassador, Nell McAndrew, and a personalised email containing your race finish time and personal statistics from the day.
The Finsbury Park Women's Running™ 10K race is the third race in the series this year, with the first two events taking place in Bristol and Nottingham earlier this year.

August 9, 2013