All sorts of fun for all sorts


Fun Palaces is an exciting idea dreamed up by Joan Littlewood and revived for the 21st century. The idea is for venues to throw themselves open to be programmed by local people for local people. Joan's dream was 'everyone an artist, everyone a scientist'.
On the banks of the Thames, our space will be transformed into a palace with a difference - quirkiness, magic, music and fun for families will be the name of the game, as well as late-night opening, live music and DJs for grownups.
Most events are drop-in, so come along to our Fun Palace any time and you're sure to find something, err, FUN to do! But cinema, theatre and evening events must be booked even though they are free so please make sure to reserve your place. Please pick up tickets by half an hour before each event.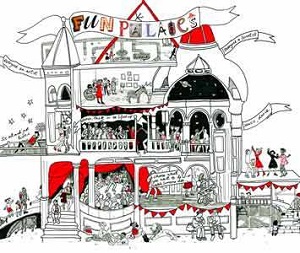 SATURDAY NIGHT LIVE MUSIC AND DJs
Sat 4 Oct, 8.30pm
Live music is back at Watermans! Get your dancing shoes on and get down to one of the slickest, sexiest, most entertaining bands on the circuit – classic R'n'B and Rock'n'Roll of the 50s and 60s – the music of Etta James, Johnny Otis, Ray Charles et al – with a 21st century attitude. Followed by DJ's til 1am. Try our special Fun Palace cocktails too! Book your free ticket here or call our box office.
SING-A-LONG CINEMA
Mamma Mia Sing-a-long
Sat 4 Oct, 4pm
For those slightly more grown up Dancing Queens, this one's always a winner.
FAMILY SHOWS AND PERFORMANCES
Sat 4 Oct, 1.30pm & 3.30pm (pre-book & drop in)
Show about making really big and fabulous bubbles. Book your free ticket here or call the box office.
The Liquid Nitrogen Show
Sat 12.30pm & 2.30pm (pre-book & drop in)
Thrills and spills abound as mum, dad and daughter explore the weird world of a liquid colder than the coldest place on earth. Book your free ticket here or call the box office.
Bouncing Cats and Boom Boom Pups
Sun 2pm, 2.30pm, 3pm (drop in)
As seen at the Imagine Festival at Southbank, Maxwell Golden and Mr Dane come to Brentford. Their purpose-built graffiti art installation will be on the Upper Terrace all weekend, and on Sunday Maxwell will run interactive performance workshops aimed at 4-10s and their parents.
Storytelling around the bonfire
Sat, 6.30-8.30pm
Betty is a 1940's housewife. She is preoccupied with rationing and the lack of ingrediants for her recipes. However the one thing that is not rationed is stories and ingrediants for stories. She is cooking up a 'Story Soup' 'Story Stew' & even a Story Stroganoff' with the help of anyone who wants to throw in ingredients. Join her round the fire, on the Riverside terrace, for an imaginative start to the evening. Presented by actress Fiona Whitelaw.
ART, CRAFT AND MUSIC WORKSHOPS
FOR TEENS:
Learn to Rap with MC Angel
Sat 4 Oct & Sun 5 Oct, 4.30-6.30pm (pre-book & drop in)
MC Angel (from West Side Radio) will teach teens her art in fun, relaxed workshops. No previous experience required! You can book at the box office, or online or drop in on the day if there are still spaces.
Film-making workshops
Sat 4 Oct & Sun 5 Oct, 2-4.30pm (pre-book & drop in)
Chocolate films will lead beginners workshops for teens on how to make documentary films as part of their 1000 Londoners project, making short films about individual Londoner's lives. At the Watermans' Fun Palace, Chocolate Films will be looking to find and film our very own Local London Hero. So if you know someone you'd like to nominate as a Local London Hero, please email vikki@watermans.org.uk
FOR KIDS:
Create a Giant Palace Sculpture
Sat 4 Oct & Sun 5 Oct, all day (drop in)
From a room full of junk, kids will create a giant Fun Palace sculpture to explore and play in. There will be sofas, magazines and books for parents to relax and supervise. Perhaps you'll discover your inner creative genius too!
Make a Fun Palace Mask
Sat, 1.30pm & 2.30pm (drop in, 1 hr)
Family workshop presented by Hounslow Adult & Community Education.
Hat and Crown Making
Sun, 1.30pm & 2.30pm (drop in, 1 hr)
Family workshop presented by Hounslow Adult & Community Education.
Coral Cities - arts and science creative workshop presented by Pickled Press
Sun, 2-3.30pm (pre book at Box Office)
We invite you to help us build a coral city. We will be making 3d mod rock sculptures of coral reefs to raise awareness of the incredible but endangered eco system on our planet. Coral reefs are made up of thousands of polyps and are like underwater cities.
FOR GROWN UPS:
Sat & Sun, 2pm & 3pm (drop in, 1 hr)
A chance for adults to make a glass decoration to take home. Discover the variety of coloured and textured glass. Learn how to join pieces of coloured glass together using copperfoil, then add a hook, and its ready to hang.
There's loads more that's perfect for all the family including storytelling, facepainting, indoor gardening, adventures through a maze and much more. Come along, you just don't know what you'll find at Watermans Fun Palace!
October 2, 2014