Puppet shows, theatre, film and activities


Long Nose Puppets present
Shoe Baby Sun 25 May 3pm,
30min 2-5yrs
Awarded Best children's show of Brighton Festival 2006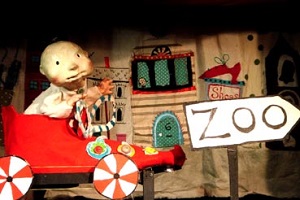 "magical children's theatre at its best" (Edinburgh Guide)
"Absolutely fantastic" (The Guardian)
Shoe Baby is a magical puppet show! A fantastical sing-a-long adventure with a baby who takes to the sea, the air, the zoo all in a shoe! This show is always popular with our young audiences, and you can meet the puppets after the show.
Shoe Baby is adapted from the book written by well-known author, Joyce Dunbar, published by Walker books. The music is written by talented musician, Tom Gray of the award winning band Gomez.
As an extra treat, you can take part in the Arts 'n' Crafts Family Workshops either before the show or after the show.
2pm – 2.45pm & 4pm - 4.45pm
Come and have fun making a Model Shoe with your own Shoe Baby inside with your child! Places limited. Booking required.
Ticket Prices for Children's Theatre
£6.50 (Concessions: £5.50)
Arts N Crafts Family workshops - £2 per child (Adults go free)
Rio 2 - Family Cinema (U) Sat 24 May @ 11am; Sun 25 - Wed 28 May @ 2pm
One adult goes FREE per one paying child except on Monday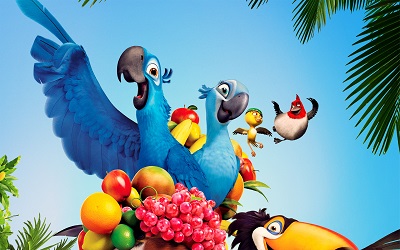 Blu and Jewel are married with a brood of three blue macaws living in Rio de Janeiro. It's a jungle out there for Blu, Jewel and their three kids in RIO 2, after they're hurtled from that magical city to the wilds of the Amazon. As Blu tries to fit in, he goes beak-to-beak with the vengeful Nigel, and meets the most fearsome adversary of all - his father-in-law.
Director: Carlos Saldanha | 101m | 2014 | USA |
Cast: Anne Hathaway, Jesse Eisenberg, will.i.am, Jermaine Clement, Tracy Morgan, George Lopez, Leslie Mann, Rodrigo Santoro, Jamie Foxx, Andy Garcia
Official Website: http://www.riomovies.com/
Sat 24 May @ 11am - Tickets: £7.50 Sun 25 May @ 2pm - Tickets: £7.50
Mon 26 May @ 2pm - Tickets £5 Tue 27 May @ 2pm - Tickets: £7.50
Wed 28 May @ 2pm - Tickets: £7.50
Please note the 'Adult Go Free Offer' does NOT apply to screenings on Mon 26 May
Wednesday 28 May 10am – 1pm
COMEDY SKETCH AND IMPROVISATION
Urban Ambush Taster Workshop led by Ashley J and Tee-j
Tickets: £10
Box Office: 020 8232 1010 For ages 13 – 18 Years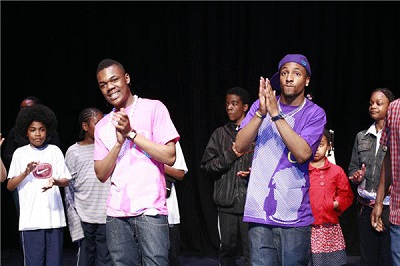 Comedy double-act Ashley J and Tee-J bring you a fun taster workshop to learn how to devise comedy and sketches ending in a performance for family and friends at 12.30pm.
Some of you may recognise them as the presenters from the recent Hounslow Arts Youth Awards that took place earlier this month at the Hounslow Civic Centre.
Ashley J and Teej are the co-creators and stars of the comedy show ACTing Up! Participants will also learn games from the show on the project.
The pair have worked for BBC, CBBC, MTV, ITV, BBC RADIO1 and Channel 4, and performed in theatres across the UK including The Barbican and The National Theatre. Ashley J and Tee-J were also commissioned to write, produce, direct and star in the official advert for BBC RADIO1's HACKNEY WEEKEND in 2012. For more info on their work search: ASHLEY J AND TEE-J on YOUTUBE.
May 19, 2014