Half Term entertainment with accompanying workshops
The Sorcerer's Apprentice by Garlic Theatre Company
Date: Sunday 16 Feb, 3pm
Age: Suitable 4+ years 45 minutes
Tickets: £6.50 / £5.50 concessions
Take one castle, one broom and one book of sorcery. Add a boy with the tingle of magic in his fingertips and a spell that spirals out of control……And you have the classic tale of The Sorcerer's Apprentice!
Garlic Theatre conjures a bewitching tale, full of mystery and enchantment, with its blend of physical theatre, humour and technical wizardry. Puppets, mime and a dash of real magic will leave adults and children enthralled.
Garlic Theatre aims to challenge, entertain and stimulate people of all ages through work which encourages imaginative play and develops a new awareness of the power of puppet animation.
The Frog and the Princess by Norwich Puppet Theatre
Date: Sunday 23 Feb, 1.30pm & 3.30pm
Age: Suitable 4-8 years 50 minutes
Tickets: £6.50 / £5.50 concessions
Directed and designed by Rene Baker.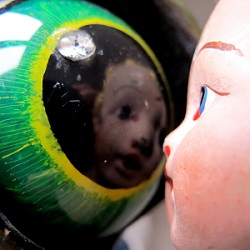 The Frog & the Princess is a poignant re-telling of the Brothers Grimm tale that will entertain and delight family audiences.
This exquisitely manipulated and humorous puppetry performance explores the meeting of cultures and what happens when a Princess deems a Frog unworthy of being her friend, just because of what he is. As the Frog and the Princess undergo an emotional journey from rejection to friendship, they discover that deep down they are not so different after all.
"I am still amazed by the power of animated objects to fascinate, amuse, provoke and perplex human beings and how a scrap of wood can make an audience gasp with a simple gesture," explains the visual theatre director, Rene Baker, who also used this popular fairy tale as a way of getting children to understand about, otherness, prejudice and discrimination.
She has blogged about this on The Frog Prince Project http://thefrogprinceproject.wordpress.com/
Arts 'n' Crafts Free Family Workshops
Sunday 23 February 2014
2.30pm – 3.15pm & 4.30pm - 5.15pm
Booking Required: 020 8232 1010
Tickets £2 per child /Adult free
Watermans have created these workshops to enhance your children's theatre trip experience. The workshops will have a theme in relation to the show. Kids will make exciting stuff whilst parents and carers have fun helping them! The workshops will be run by Judith Hope, puppet maker, textile and paper artist and maker of many things and will take place in Studio 1
Come and have fun making a Paper Plate Frog Puppet with your child! Places limited.
February 14, 2014