Doctor Faustus available on the screen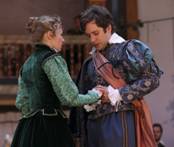 Doctor Faustus by Christopher Marlowe – Wednesday 24 Oct @ 7.30pm
Tickets: £12/£10
Watermans are delighted to be one of the cinemas in West London and in the UK to be part of the Globe on Screen season that launches on 26 September with All's Well That Ends Well and later on in the season with screenings of Much Ado About Nothing on 10 October and Doctor Faustus on 24 October. These productions were filmed from the Shakespeare's Globe 2011 theatre season.
'All's Well That Ends Well ' is directed by John Dove an uplifting romantic comedy with sumptuous costumes, outstanding original music and a fine ensemble of actors including Oliver Award-winning actress Janie Dee giving a delightful performance as the Countess of Roussillon. The orphaned heroine Helena played by Ellie Piercey will stop at nothing to win the proud young aristocrat Bertram who is forced to marry her but instantly abandons her.
Shakespeare's wittiest of comedies, Much Ado About Nothing pairs Olivier Award-winning actress Eve Best (The King's Speech, Nurse Jackie) and Charles Edwards (Downton Abbey, An Ideal Husband) as the sparring lovers Beatrice and Benedick, and also features Joseph Marcell (Geoffrey in The Fresh Prince of Bel-Air) as Leonato. Directed by Jeremy Herrin, this fearless display of Shakespeare's wit and wisdom, in which words become weapons, comes to sparkling life.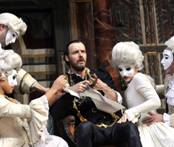 To end the Globe on Screen series we have a spectacular production of Christopher Marlowe's tragedy Doctor Faustus, this bright and brilliant interpretation directed by Matthew Dunster features puppets, pyrotechnics and magic tricks. Paul Hilton (Wuthering Heights) takes the title role of the legendary story of a man who sells his soul to the devil for power and pleasure.
We hope these screenings in this limited season give cinema audiences a thrilling, up-close experience of the Globe form in the comfort of their seats.
Tickets for these special screenings are £12 or £10 and are on sale now. You can be book via the website: www.watermans.org.uk or in person or over the phone via the Box Office: 020 8232 1010.
October 12, 2012