Christmas Joy at the Watermans in December
"Twas the night before Christmas, when all through the house
Not a creature was stirring, not even a mouse..."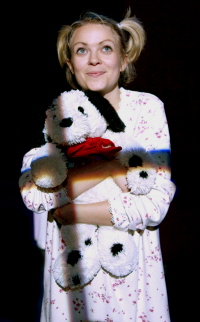 Watermans Christmas show this year is The Night Before Christmas by Big Wooden Horse Theatre. This show based on an American poem, recited on Christmas Eve has captivated audiences wherever it is performed.
It is Christmas Eve and a little girl, Emily (pictured looking out of the window), is far too excited to go to sleep. As she hugs her teddy and stares out of the window a little mouse called Eddie is hiding in the corner of her room wondering why only humans are allowed to celebrate Christmas. Eddie is now on a mission to search for Father Christmas to ask him why.
Along the way he dodges the family cat, gets directions from the cowardly robot called Dymotron and is given some advice from the magical fairy, Lizzie, on top of the tree.
Will Eddie get an answer? Will Emily get her wish? And what is that funny shaped present waiting to be opened?
Big Wooden Horse Theatre productions are very popular so book your tickets now.
Christmas starts here with this magical festival tale for children and their families with catchy tunes and plenty of audience participation.
November 22, 2011