Afternoon of Entertainment and Fire
From 4pm on Friday 28 October there will be a programme of entertainment for all the family to celebrate the lighting up of Hounslow Town Centre. The entertainment will be compered by club promoter DJ Ritu, with uplifting music from the Bollywood Brass Band and fire artistry from FlameOz.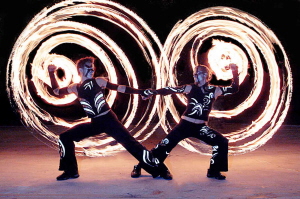 Hounslow High Street, outside Holy Trinity Church

16.00 – 16.20

DJ Ritu

16.20 - 16.40

Bollywood Brass Band

16.40 – 17.00

FlameOz

17.00 – 17.35

DJ Ritu

17.35 – 17.55

Bollywood Brass Band

17.55 – 18.00

DJ Ritu – countdown

18.00

Switch on Festive Lights

18.05 – 18.15

FlameOz

18.15 – 18.20

DJ Ritu – close event

ASDA Hounslow Holloway St. Car Park

18.30 – 22.05

Drive-in Cinema Screening
DJ Ritu Ritu has broadcast for BBC World Service, Radio 3, and Kiss 100. She also writes and compiles albums for The Rough Guides. As a long-time club promoter, Ritu sets new trends through her regular London club nights - Kuch Kuch, Kali, and Hoppa - which collectively reflect her expertise in North African, Middle-Eastern, Mediterranean and Bollywood.
Bollywood Brass Band: Four funky drummers and six hot horns play massive hits from Indian films, all driven by the huge beat of a dhol drum
FlameOz is an entertainment company formed in Australia now based in the UK which has entertained audiences across the globe. The FlameOz team are inspired artists who are continually training and developing cutting-edge acts, in the forefront of the ever-evolving world of modern circus.
The lights will be turned on by The Worshipful The Mayor of the London Borough of Hounslow Councillor Amrit Mann at 6pm.
The action will take place in the pedestrian area in Hounslow High Street, with the support of the Church of Holy Trinity with St Paul and St Mary.
The evening will conclude with a pop-up drive-in cinema screening of one of the most beautiful Bollywood films ever made, Devdas. Entrance is free but it will be first come first served and there will be space for only 100 cars in the ASDA Holloway Street Car Park. The film screening will commence at 6.30pm.
This event is the first in a series funded by The Mayor of London's OUTER LONDON FUND and produced for The London Borough of Hounslow by Watermans.
Watermans is delighted that this award to the Borough of Hounslow from the OUTER LONDON FUND will enable us to continue the programme of outdoor events that started so promisingly two years ago. Since then we have organised dance performances with Initium and Taxi, Action Painting with Elisabeth Hepworth and Heliosphere and Tiger in the Park, both in Lampton Park.
October 18, 2011