3 Pairs of Tickets for this one man show
Watermans starts its Autumn season of theatre with a comedy special that has toured around the world as well as the Edinburgh Fringe Festival.

D'Arranged Marriage,directed by Rajeev Varma and Starring Tarun Mohhanbhaiis the story of twenty-nine year old, Sanjay Gupta, the New Zealand born son of Indian immigrants, who lives at home, works in his father's corner shop, dreams of a career in stand-up comedy, and strenuously avoids the issue of an arranged marriage. His nagging parents finally get the better of him, but to his surprise, he discovers that the prospective bride is the one!
This one man show has something for everyone: characters that will make you laugh until you cry, a few Bollywood-style song and dance routines and a wickedly funny look at Indian culture and life in New Zealand. Suitable for ages 15+.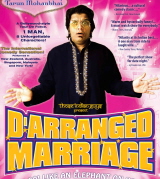 Friday 2, Saturday 3 and Sunday 4 September, 7.45pm
Tickets: £12 in advance, £14 on the day; Concessions available.

We have 3 pairs of tickets to be won to see D'Arranged Marriage at Watermans, one pair for each night it is on (2,3,4 September)

Further details on the website www.watermans.org.uk

Just answer this simple question;
Q. Which country does the star of the show come from?
Is it;
A) Australia
B) New Zealand
C) Ireland.
Please reply A, B or C to info@watermans.org.uk with your name, telephone number and contact address. Winners will be selected at random from correct entries received by 26 August 2011.
August 17, 2011