Street Theatre with High Impact, High Energy Street Dance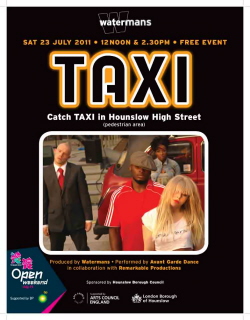 July 23 at (12:00, 14:30)
Combining traditional street theatre with high impact, high energy street dance, Taxi! takes us on a comic journey through the hurly - burly of urban London seen through the eyes of a London Cabbie and his motley selection of passengers.
Fusing the elements of Parkour, Contemporary and Hip-Hop Dance and set in, around and on top of an iconic London Taxi, this piece is a refreshing, entertaining piece of street theatre and dance. The performers, who fluidly switch between their evolving personalities and costumes, allow themselves to be exaggerated and comical yet never falter in their strength and delivery of the choreography. The Taxi itself provides both the engaging narrative for the piece and an inventive and unusual set. Taxi! is a rare gem of a show that delights the most challenging of audiences with its humour, charm and originality.
Avant Garde Dance have been working together for nine years, performing at many high profile events and venues during that time. The four male, two female performers of Taxi! --which includes Tony Adigun (Artistic Director) -- are both versatile and diverse in their training, each experimenting with the theatre of the characters they perform. This exciting company pushes the boundaries of vocabulary and style and is highly respected in the dance world.
This is the third collaboration between Avant Garde Dance & Remarkable Productions, producers of extraordinary art festivals --and follows the success of both Attack on the Bandstand (2008) and The Silver Tree (2009). The Silver Tree has toured extensively in 2010 both in the UK and Spain.
Reviews
Bold, inventive dance, which uses all the liberating adventure of hip-hop moves as its vernacular.
Thom Dibden

'Avant Garde Dance are one of the most exciting companies around currently-always innovative and pushing the boundaries in term of their vocabulary and style, and keen to explore new collaborations which simply makes their work fresh and exciting'
Kiki Gale East London Dance
NO TICKETS ARE NEED FOR THIS EVENT. JUST TURN UP WATCH OR EVEN JOIN IN
The show will be performed in the pedestrian precinct outside the Treaty Centre.
July 19, 2011