Featuring: Sooraj Subramaniam & Sri Thina Subramaniam

Daredevas features the brightest young talents in contemporary Indian dance. British-based with international roots, these artists provide a fresh take on traditional Indian dance styles, showing a mix of bold and adventurous choreographies. Styles range from energetic traditional Bharata Natyam and Odissi to contemporary dance and creative fusions of various Indian and Western dance forms.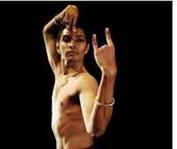 This evening's show features Sooraj Subramaniam and Sri Thina Subramaniam who will be performing three short pieces each drawn from the traditional repertoires of Bharata Natyam and Odissi.
Sooraj Subramaniam trained at the Sutra Dance Theatre, Malaysia, where he learned the Indian classical dance styles of Bharata Natyam and Odissi, and later classical ballet and contemporary dance forms. He continued classical ballet training in Australia, and then pursued the Advanced Diploma in Performing Arts (Dance) at the Western Australian Academy for Performing Arts.
Since 2007 Sooraj has been working with London-based SRISHTI, led by award winning choreographer, Nina Rajarani. He has featured as a lead dancer in all of the company's productions to date including, "Love is in the Air". As well as being a fulltime performer, Sooraj is principal dance tutor and workshop leader with SRISHTI.
"There is a sensory and spiritual rush I experience through dancing that keeps me bound to it. I think dance is a unique repository of culture and finesse," says Sooraj.
The second performer is Sri Thina Subramaniam, of Malaysian background who now lives and works in London. She began training at the Temple of Fine Arts in 1988. Her exploration in the arts began with Bharata Natyam under Vasuki Sivanesan and Shyamala Narayanan and later Odissi under Geetha Sankaran Lam.
Her remarkable versatility and passion for dance bring about a rare smouldering energy that is a joy to behold. Her dance gurus recognise in her the special gift of 'artistic enchantment' that caught the eye of international Bharata Natyam exponent Mavin Khoo with whom she currently trains, and who recently presented her a critically acclaimed solo performance in Malaysia, "Faces of Love" as a 2 hour solo recital.
"Her remarkable versatility and passion for dance bring about a rare energy that is a joy to behold." (New Straits Times, 1st August 2010)
Sri Thina has performed at numerous dance dramas and productions internationally over the last 10 years. She has also studied Kathak, Contemporary, Bollywood and folk dance; her creative side sought even more expression in designing, painting and drawing.
Her dance gurus regard her as a dancer with gifts - beauty, physical, elegance, creativity, and most of all, a quiet allure on stage.
December 1, 2010