'Frank Sinatra' at the Watermans this Thursday

The Moon River Club nights starts its 11th Year with a super loved-up Valentine's Party on Thursday 10 February 2011 6.30pm- 10.30pm.
After the huge success of the Elvis set for last year's Halloween Event, the Moon River Ravers have pulled out all the stops to get another.
Special Guest for the night is Charlie Costin as Frank Sinatra singing romantic songs to get you into the right mood for luuuuurrrvve.
We'll be running 'Speed dating' sessions and a 'Strictly Come Dancing' competition with the opportunity to win a pair of cinema tickets at Watermans so don't forget to sign yourself up on the night.
As well as a live performance, we also have 6 of Hounslow's finest DJs. Finally the Guru Tandoori will be providing the buffet food at only £3.50 so don't eat beforehand! So practise those chat up lines and the moves for the dance floor – because it is time for some serious love.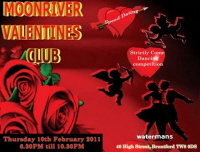 More details can be found at www.myspace.com/moonriverclub and on www.watermans.org.uk
Moon River is a vibrant night club for people with learning difficulties, their friends, family & supporters - and takes place 3 times a year at Watermans.
The club was founded in December 2000 by Frank Hutson from Luminous Frenzy (arts freelancers), Jan Lennox & Tim Jones from Watermans, and Melvyn Simons & Steve O'Sullivan from Hounslow Social Services.
The aim of the club is to combat the social isolation faced by people with learning difficulties and to showcase their talents as: DJs, MCs, musicians, dancers, artists & actors.
The Moon River Ravers (a group of people with learning difficulties) now run the club with support from Sandra Bentley at Hounslow's Community Access Service and Frank Hutson.
There are also DJ performance opportunities for people with learning difficulties. DJs are trained by professional DJs Louise & Frank from Luminous Frenzy. If you want to train to be a DJ please contact June Deacon on:020 8572 0933.
The project is managed on behalf of Watermans by Nadia Nervo - Head of Participative Arts and by June Deacon on behalf of Hounslow Social Services.

Read more: http://www.myspace.com/moonriverclub#ixzz12yzPKVQH

February 8, 2011