Halloween Extravaganza at the Watermans

You are only 10 once, and Moon River Club celebrates the final club night of its 10th birthday year - with a Halloween extravaganza and a bit of Rock 'n' Roll thrown in for good measure on Thursday 28 October 6.30pm -10.30pm.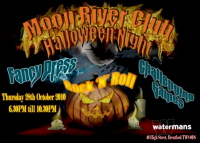 To make this a night to remember, we have a special guest performer - back from the other side! Yes 'Elvis' will be playing live. It may be that 'Elvis' is in the form of Paul Richie, but Paul is the UK's number one Elvis impersonator www.elvistribute.me and he will be playing a 30 minute set.
As well as a live performance, we also have 6 of Hounslow's finest DJs plus a special surprise guest DJ from North London's Wild Bunch Club www.wildbunchclub.com . We also have prizes for the best Halloween costume and there'll be Halloween games to play throughout the night.
Finally the Guru Tandoori will be providing the buffet food at only £3.50 so don't eat beforehand!
So what are you waiting for? Dust off those dancing shoes, put on your scariest Halloween costumes and get ready to party!
More details can be found at www.myspace.com/moonriverclub and on www.watermans.org.uk
Moon River is a vibrant night club for people with learning difficulties, their friends, family & supporters - and takes place 3 times a year at Watermans.
The club was founded in December 2000 by Frank Hutson from Luminous Frenzy (arts freelancers), Jan Lennox & Tim Jones from Watermans, and Melvyn Simons & Steve O'Sullivan from Hounslow Social Services.
The aim of the club is to combat the social isolation faced by people with learning difficulties and to showcase their talents as: DJs, MCs, musicians, dancers, artists & actors.
The Moon River Ravers (a group of people with learning difficulties) now run the club with support from Sandra Bentley at Hounslow's Community Access Service and Frank Hutson.
There are also DJ performance opportunities for people with learning difficulties. DJs are trained by professional DJs Louise & Frank from Luminous Frenzy. If you want to train to be a DJ please contact June Deacon on: 020 8232 1010.
The project is managed on behalf of Watermans by Nadia Nervo - Head of Participative Arts and by June Deacon on behalf of Hounslow Social Services.

Read more: http://www.myspace.com/moonriverclub#ixzz12yzPKVQH

October 21, 2010