Watermans Open Weekend Event
The talented and cool painter, Elizabeth Hepworth arrives in Hounslow High Street (Staines Road End ) Saturday 24 July /12 noon – 4pm, for a public live-art performance that combines street-art, figurative painting and drawing and audience participation.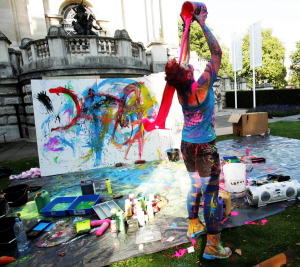 This highly commended contemporary artist, who hails from West London will be painting and reworking her canvas to the inspiration of her surroundings, music and the general public. The public will be encouraged to 'sit' for the artist and have their bodies and faces worked into the image.
The abstract, imaginative performance painting will be continuous throughout the piece, although the artist at her discretion may encourage some of the members of the public to mark the image.
Hepworth is a young talented artist, who has been highly recommended by Aesthetica Magazine in the field of 'Artwork and Photography'.
This free public event is part of the Watermans involvement in the Open Weekend celebrations of events around the UK.
July 19, 2010