Independent Indian Films show India in all its colour and diversity
The London INDIAN Film Festival launches from 15- 20 July in London with a range of cutting-edge movies from some of India's hottest independent talents making films that challenge and show a more realistic view of India today in all its colour and diversity. Watermans will be presenting a LIFF weekend from Fri 16 – Sun 18 July.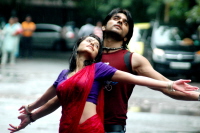 The controversial Indian hit film Love Sex Aur Dhokha (Love, Sex and Betrayal) launches the London Indian Film Festival on 15th July at Cineworld Haymarket. (The film will be screened at Watermans on Saturday 17 July at 8pm). A box office winner in cities like Mumbai the movie by director ,Dibakar Banerjee offers a dystopian view of romance in today's urban Indian metropolis. Bollywood idealised romances are pulled apart as Banerjee shows us three stories of Indian youth where love and betrayal go hand in hand. These are all voyeuristically shot using new technology - hand held camcorders, surveillance cameras and internet chat sites.
It shows a view of Modern India in all its unsettling contradictions where rock chicks, Bollywood wannabees and internet porn live cheek by jowl with traditional values, caste prejudice, arranged marriage and even honour killings. The film with unknown actors was released this March in India and became an instant box office hit knocking bigger Bollywood multi-starrers off screens.
Director Dibakar Banerjee says "We were surprised by how Indian youth took to this film it really touched a chord with what is going on. It's great to be previewing LSD for the first time in London. I look forward to seeing the audience reactions'
Festival Director Cary Sawhney, explains that Love Sex Aur Dhokha is a fabulous opening film for the Festival, although in reality its less raunchy than 'Sex And The City', it's unsettling plot is a compelling tale of trading of love and emotions for personal gain".
The Festival covers a wide range of themes from family dramas, coming-of age tales to twisted urban romance. What pervades many of these movies is a new more assured Indian cool, experimenting with cinematic styles, new technology and influenced by themes both East and West, which has helped them win favour with the young in-crowd in super cities like Mumbai.
India is the largest film producing country in the world producing up to 1,000 films a year, out stripping Hollywood, but apart from mainstream Bollywood, very few of these films are seen in the UK. As Sawhney puts it: "Apart from just showing great movies, we also aim to help get these film talked about and screened more broadly in cinemas in the UK, in the same way that Iranian cinema has been. London of course has a huge Asian audience for these movies, but many Brits would also like to see what's going on in the 1.2 billion strong India today and cinema is a great way to do this".
Other highlights in this festival include Last Chance Mumbai is a sophisticated multi-strand ensemble exploring the connective lives of the city's inhabitants over a 24 hour period by acclaimed director, Saeed Akhtar Mirza (whose retrospective was held at Watermans , Nov 2008).
"Motwane, his Udaan producer Anurag Kashyap - also a director with credits including Black Friday and Dev D - and their contemporaries such as Vishal Bhardwaj, Neeraj Pandey and Dibakar Banerjee, are subverting the conventions of Bollywood to produce films which speak to India's multiplex generation," Liz Shackleton, Screen Friday 2 July 2010
London INDIAN film Festival partners from across the industry are supporting the Festival. The Satyajit Foundation's Ray Short Film Competition has joined the Festival with the winning filmmaker receiving a £1,000 Award on 20 July at Cineworld, Haymarket. More guests are expected to be confirmed nearer the time. For more information and bookings check out the website on www.londonindianfilmfestival.co.uk or call Suman on 07930 101894
Friday 16 July 8pm Dev D Dir. Anurag Kashyap / Script Vikramaditya Motwane, Anurag Kashyap / with Abhay Deol, Mahie Gill, Kalki Koechlin / 2009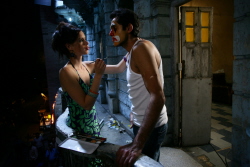 Hindi with English subtitles, Rating 15
Trailblazer of a younger generation of Indian directors Anurag Kashyap brings a brilliant, luxuriantly visual re-telling to the classic story of Devdas, who treats his girlfriend in the wrong way and ends up the broken hearted lover.
Saturday 17 July 8pm Love Sex Aur Dhokha (Love, Sex And Betrayal)
Running time 150 mins approx, Release 2010, Rating 15
Hindi with English sub-titles
Shocking and gripping, this international version of hit film Love, Sex Aur Dhokha pulls no punches as it introduces us to the surveillance crammed world of today's mega-city India. Deftly told through 3 inter-twinned stories, Banerjee takes us on a roller coaster ride of twisted tales of young love, soaked in betrayal.
Sunday 18 July 7pm Last Chance Mumbai (Ek Tho Mumbai)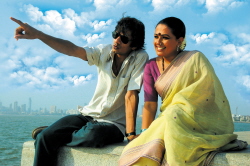 Last Chance Mumbai Dir. Saeed Akhtar Mirza
Running time 120 mins approx, Release 2009, Rating 15
Hindi with English subtitles
'Monsoon Wedding' actor Vijay Raaz leads an impressive cast of characters in this multi-strand ensemble, set in the megalopolis of modern Mumbai, that explores the connected lives of the city's varied inhabitants over the same 24 hour period. Raaz (a thief), sparks a sequence of events that bring all our characters lives into head long collision.
July 12, 2010