Delivered by Brentford FC Community Sports Trust

Brentford FC Community Sports Trust has announced a partnership agreement with Chiswick School to deliver a Futsal Level 3 BTEC National Extended Diploma in Sport.
This unique opportunity to study full time at Chiswick School and also train with Brentford FC Community Sports Trust starts in September 2013.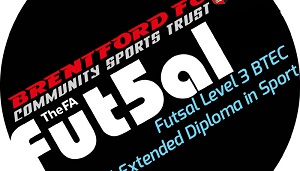 The Academic programme gives students the opportunity to learn and train like a professional.
Successful students will leave the 2-year programme with a Level 3 BTEC in Sport equivalent of up to 3 A Levels.
There will also be an opportunity to study for An additional A-Level alongside the course. You will also have the chance to achieve Coaching qualifications and gain valuable practical work experience with the Trust.
The 4 hour weekly Futsal coaching will be delivered by Brentford FC CST at Chiswick School and will be supplemented by regular strength and conditioning sessions.
The students will take part in The Football League Trust Futsal League at the state of the art Futsal Arena in Swindon. Matches will take place against other professional club's Community Schemes.
There are pathways to progress into Regional Development Squads and The FA Futsal National League.
Entry requirements for this are 4 (A-C) GCSE's or equivalent plus you must be 16 and under 18 by 31/8/13.
To find out how you can apply for this opportunity please contact Luis Melville by email at lmelville@brentfordfccst.com

Brentford FC Community Sports Trust
June 4, 2013