Brentford Soccer Schools launches at GOALS Osterley



Brentford FCCST is pleased to announce that this weekend sees the launch of the all new Saturday Soccer School at GOALS Osterley.
As you maybe aware GOALS has been used as one of our Football Development Camp venues throughout 2011. GOALS has proved to be a great success with positive feedback from participants and parents alike.
So why GOALS?
Goals is a dedicated football site with state of the art 3G playing surfaces and a comfortable modern pavilion/viewing area. The site is not affected by the hazards or weather conditions that can occur when using grass/public parks etc. On-site facilities include ample FREE parking and a fully equipped bar where parents and siblings can relax with a coffee whilst watching Sky Sports news or reading the morning papers - you could even pop next door to TESCO to do the weekly shop whilst the football takes place!
Session times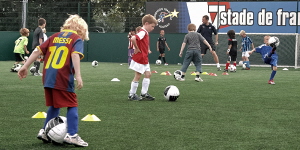 Sessions will run from 9.30 to 11am every Saturday morning excluding HALF TERM and SCHOOL HOLIDAYS.
To celebrate the launch, the Sports Trust is offering a pair of FREE match tickets (1 adult/1 child) to each participant who enrols on the day. The tickets are for that afternoons NPower League 1 game vs. Huddersfield Town. Additional tickets will be available at a reduced (community ticket) price. Further match day ticket offers will be available to regular participants throughout the season.
How much does it cost?
The 'pay & play' option costs £7 per player per 90-minute session. Alternatively, the 10-week block booking advance payment option costs £60 per player, making a saving of £10.
The Sports Trust hopes that you will take the opportunity to take part in our Saturday Clubs at GOALS as it is sure the venue will prove to be a resounding success. Seeing you at the official launch on October 1st.
To download the information/10-week booking form please visit www.brentfordfccst.com or download the booking form (pdf).
If you need any more details then please contact the Trust via email at enquiries@brentfordfccst.com or call 0844 247 1889.
You can also be prepared and book for the October Half Term and Christmas Holidays (pdf)
September 29, 2011